CEDAR CITY — When 16-year-old Collin Healy of Cedar City looks at his family, he is filled with gratitude, and his heart that he once described as having a "hole" is now full.
Adopted at the age of 4 from an orphanage in Romania, Collin has longed to return, in hopes of filling that void.
"Collin always said he had a hole in his heart because he didn't know his birth family, and what the circumstances were that his parents couldn't take care of him," his mother, Ginger said. "He wanted to know 'who he was.' "
Because he was so young when he left Romania, Collin didn't remember what things were like. His mom, however, remembered all too well the difficult conditions that surrounded Collin and other Gypsy children. She remembered the poverty that was ever-present, and the discrimination and poor treatment that these people endured every day.
Wanting to fill the holes in her son's heart, but also wanting to protect him from what he might encounter, Ginger and her husband, Rob, spent a lot of time educating their son about his heritage in preparation should the day come for him to return.
That day did come, and was offered by way of a pay-it-forward grant. In July of this year, the family made the trip to Romania.
Related:
With a main goal of meeting Collin's birth parents, Rob and Ginger hired a private detective, who was able to locate each of them. And while his birth parents were no longer together, Collin was able to forge a lasting connection with each, as well as with a younger brother.
"Collin's birth mother looks just like him," Ginger said. "His mother told him she loved him, thought of him often, and wanted the best for him. Seeing her, and hearing these things filled that hole in Collin's heart."
"The trip was life-changing and fun. I loved meeting and spending time with kids like me who are adopted from Romania," Collin said. "Those kids understood my feelings about adoption. Sometimes I don't feel like I belong, and those kids understood that. I learned that other parts of the world aren't as lucky as we are and I have been spoiled and didn't know it. I would recommend this trip to anyone even though it was hard to see poor people begging and people suffering. My birth parents' homes didn't have electricity or running water or indoor plumbing. I think it's important to see those things because we forget that others suffer, and it makes us better when we are grateful for what we have."
When asked if she would do it again, Ginger said, "Yes, it was worth it, and we would do it again. But there are risks. Emotional and physical. Not every child or family is ready to handle opening pandora's box."
Going on, Ginger said, "Meeting your birth family may answer some questions but raise far more questions. The search is only the beginning of the journey. Life after the reunion will be a far longer road."
For more information on the grant the Healys received, go to Gift-of-Identity.org.

---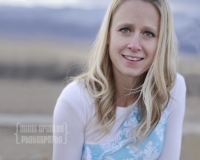 About the Author: Arianne Brown
Arianne is a mother of 6, and lover of all things, even the common house fly. Her down time is spent running the mountain trails of the Wasatch Mountains and beyond. Contact her at ariannebrown1@gmail.com or search her Facebook page, "A Mother's Write."
Photos
Related Links
0 Pending Comments
Sorry, we are not accepting new comments on this story, but if you have more to contribute please email
newstip@ksl.com
Showing of 5 comments
Sorry, we are not accepting new comments on this story, but if you have more to contribute please email
newstip@ksl.com