MESA, Ariz. — The recently released summer blockbuster "Guardians of the Galaxy" boasts a ramshackle cast of characters, including an 8-foot-tall, walking, tree-like bounty hunter named Groot. The much-anticipated Marvel Comic film inspired friends JD Winters and Andrew Gordon of Mesa, Arizona, to create a Groot costume based on the digital character.
"The reality is, the character is a completely computer generated image. There is no costume in the movie, it is actually a virtual character," Winters noted when asked about making the costume. "An actual human couldn't fit into a costume and have joints in the same places. We had to do our best to keep it slender and simulate movement and joints in places [not normal to humans]."
A month or so before the movie release, Gordon approached Winters to make the costume. As the owner of JPro Studios, a company specializing in creating interactive exhibits, Winters was familiar with methods used to make faux armor.
After closely inspecting as many photographs and videos of Groot as they could find, Winters came up with a design using EVA foam.
"EVA foam is a soft closed-cell foam, it is often used on anti-fatigue floor mats," Winters explained. "We sculpted it with a band saw and a rotary tool … shaped it with a heat gun, then fused it together with hot glue. Several coats of latex paint finished it off."
Vines were also added, which were made out of pipe insulation typically used for plumbing purposes. A camouflage suit is worn under the costume.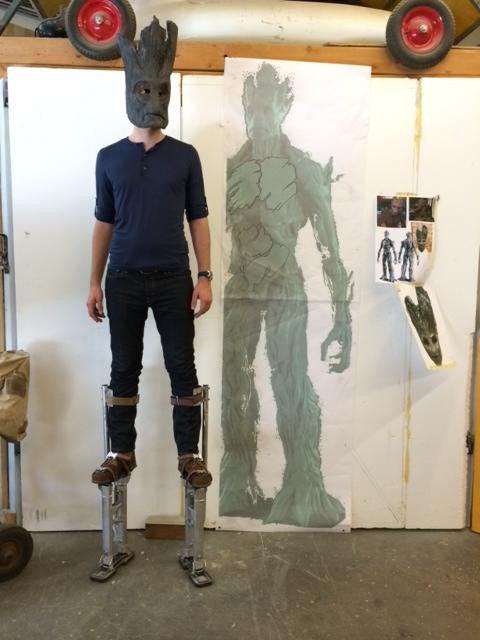 The process was a friend and family affair. Close friend and neighbor Jeff Hunt provided numerous hours of work using a rotary tool to add detail and texture. Winters' 12- and 14-year-old sons also got involved in the process by cutting pieces on the band saw and sculpting details on the bark with a rotary tool. Even Winters' wife, Cadi, provided help with construction. All in all, the process took over 100 man-hours.
The costume was built around the measurements of Hunt's brother, Josh, who was slender and tall enough (with drywall stilts) to impersonate Groot.
"Josh's main job was to hold still while we test-fit parts. He also had to get comfortable on the stilts. Often he would just be walking laps on the stilts around the shop while we worked," Winters said.
Gordon arranged for Groot to make several appearances, including at local movie theaters on the opening weekend. "It was hard for Josh to be on stilts for four or five hours, but he was a trooper," commented Gordon. "The foam is like insulation. It is not heavy per pound, but it was an insulator and kept his body heat in."
Even though it was warm to wear, Josh Hunt enjoyed being Groot. "Being Groot was an unbelievably fun experience," he said. "It took a couple of hours (of practice) to get used to the movement and the visibility in the mask. But after I got the hang of it I had a really great range of motion with the full costume on. … I was able to move my arms and head, and I could even bend over for pics."
The completed costume has had very positive feedback. "I was actually shocked at the reaction. I was expecting the typical parade fanfare that comes with seeing someone right off the big screen," Winters reported. "We walked in (to the theater) and you could hear a pin drop. It seemed like everyone froze and just stared in awe."
Response was so positive the local Fox news station showed the Groot costume during a review of the film. Additionally, the costume caught the eye of the vice president of marketing for Disney, parent company of Marvel Studios.
"We received recognition from the VP of marketing for Disney who wanted to give us a shout out because he was so impressed," Gordon said. Gordon said.
Gordon and Winters plan on selling their Groot costume to the highest bidder. Interested buyers can learn more on the Gordon's Get-ups Facebook page. Additionally, Gordon is considering making a costume or two for next summer's release of "The Age of Ultron."
"Guardians of the Galaxy" was released on Aug. 1 and made over $94.3 million in its opening weekend.


---
Rebecca Irvine is an adjunct faculty member in the Communications Department at Mesa Community College. She is the author of 'MTC at Home' (Covenant 2014) and 'Follow the Prophets' (Covenant 2013).
Photos
Related Stories
0 Pending Comments
Sorry, we are not accepting new comments on this story, but if you have more to contribute please email
newstip@ksl.com
Showing of 4 comments
Sorry, we are not accepting new comments on this story, but if you have more to contribute please email
newstip@ksl.com