PROVO — In a span of 11 years, the Brigham Young University animation program has been awarded 16 student Emmys.
Students recently brought home Emmy numbers 15 and 16 from the 2014 College Television Awards in Los Angeles. Short-film "Owned" won first place for animation, while another BYU film, "Chasm," won first place for best use of music.
"Sometimes people will think because we've won so many awards it must be the faculty, but every one of these films are different and every one of these films can be successful and every one of these films can fail... they're a success if the students want them to be a success," said Center for Animation director Brent Adams. "The students really step up and each year it is pretty amazing to watch."
Comedic short "Owned" tells the story of a video game world champion who faces his greatest challenge when he is paired up against a baby named Abby. Student film director Wesley Tippetts said he based the story on a personal experience.
"I was playing the Wii with this little kid and he just started kicking my butt – he was really good and I was totally humiliated because I was 20-something and I was being destroyed by this little kid," he said. "During storyboarding I thought it was kind of funny, but wouldn't it would be even more funny if pushed to the extreme?"
Related Story
Adams said one of the reasons "Owned" performed so well is because people can relate to the main character Jeff.
"Owned is a film that just kind of resonates with everybody," Adams said. "It is about a guy who spends too much time playing video games, but even if it's not computer games, there are a lot of things that most of us spend too much time doing and it is a distraction from things maybe we should be doing."
The film is also technically impressive, according to those who worked on the project. Short films will usually feature only one environment, such as the inside of one room, but students created two rooms and two video game settings for "Owned."
Adams said, at times, the faculty wanted to scale back the project, but students didn't want to cut any corners.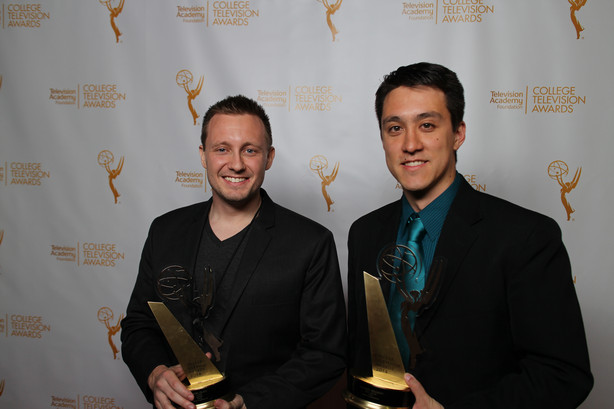 "The students said 'we can do it, we can do it,' and they did it," he said.
"Chasm," the film which won the award for its music, is a sci-fi animated short that features visual effect such as clouds and lightning. The student who composed the music score, Richard Williams, won his second student Emmy for his work on the film. His first Emmy came in 2010 for the animated film "Mashed."
The music was recorded with the help of the BYU philharmonic, and Richards did an outstanding job on "Chasm," Adams said.
"The fact that this was his second student Emmy for music is really pretty incredible," he said. "The category he got a student Emmy for, they only give one award in that category each year and there are hundreds of films submitted, so it is pretty amazing to have a student with that kind of talent."
"Chasm" is at the end of its festival run, but Adams said "Owned" will soon be playing at festivals in Los Angeles and Palm Springs and the team is continuing to enter it into other competitions. The team recently found out "Owned" is also a finalist for the student Academy Awards.
The films can't be posted online in full while it is competing for other awards, but BYU said the Center for Animation is working on making its other winning videos available on its website.
Photos
Related Stories
0 Pending Comments
Sorry, we are not accepting new comments on this story, but if you have more to contribute please email
newstip@ksl.com
Showing of 1 comments
Sorry, we are not accepting new comments on this story, but if you have more to contribute please email
newstip@ksl.com