SALT LAKE CITY — The chairlift chair has eight inches of sparkling snow piled on its seat. The lift operator gives it a couple energetic swipes with his broom as it swings by him. I let it clip me behind the knees, and sit back as it does. I tuck my poles under my leg and pull the cross bar over me. The hum of the tower fades behind me and I am lifted into an atmosphere of Vallen Stil peacefulness.
I scoop up a handful of snow from the chair and examine it, something every skier will do this morning as they step onto the slopes. Today's snow isn't powder — not even close to the glorious champagne for which the west side of the Wasatch is so famous. This snow is as coarse as margarita salt; but still quite good for winter's first try.
My chair shudders and shivers as it passes through the pawls of the lift tower, as if it too is still growing accustomed to the morning chill, and then it carries me over a ridge and into view of Solitude's Same Street, and Main Street. From here I can see the day's first skiers, three groups of two laying down the day's first tracks in three matching helixes, extending away from the top of Moonbeam, plainly visible in the virgin snow.
However, a blue-bird day like this the mountain won't stay empty for long. Indeed, a quick look over my shoulder confirms vehicles flowing up the mountain in a steady, bumper-to-bumper stream, that likely extends all the way back to Wasatch Boulevard. But here the stream of cars divides, some still flowing on to Brighton, the rest pouring into the Solitude parking lot like a stream dispersing into a delta.
Ah, Winter. Welcome back old friend! We have missed you.
There are few things better than a Wasatch winter. It's that time of year when the skiers and snowboarders get an itch that can only be soothed by a heavy dose of Wasatch powder. The Wasatch Range is a snow-cloud trap. It can wring powder from every last reluctant cloud that tries to cross over it. The fable "1,001 Nights of Snowfall" could have taken place right here on the Wasatch Front.
Online Poll
There is a great deal to be said for eight inches of new snow under the skis to gladden a Utahn's heart. Snow is one of our favorite mediums.
Sled rides. Polar bear plunges. Building snowmen. Cross-country skiing on a full moon night. Browsing warmly-lit bookstores. Cozying up to the fireplace. Hot tubs under falling snow. Strategically secluded mistletoe.
Sure, there will be days when we scrape the frost off our windshields with our credit cards, and sure, it's going to snow every Saturday night, and yes, your kid is going to track muddy slush from the front door, through the living room and into his bedroom. Then there's that inversion that just hangs around for months.
But we also get to sip cocoa in the bay window while we watch the snow fall on a lazy Sunday afternoon. And we'll have fires in the fireplace while we watch Hallmark movies snuggled together.
Few people are better at winter than Utahns. We play in it. We work in it. We live it. We praise it and we curse it. We love it and we hate it. We are gently seduced by it, even while it torments and tortures us.
Our relationship with snow in November and December is like a new romance: We're happy to see it every time it shows up, and we're sad to see it leave. It's so promising. So precocious. It's open to all possibilities. You wait for it and smile when you hear it tapping at your window at night. It's so beautiful.
You like the way it kisses your cheeks, bites your neck and tickles your wrists. You can't help but flutter your eyelashes when you look up at it.
Related Stories:
But come February or March the romance is no longer going so well. It keeps showing up at strange hours and usually when you've got things to do. It promises to settle down, but it keeps leaving. It's just so dang unpredictable.
After three months of showing up unannounced, smothering you, incoveniencing you, just to vanish two days later while sticking you with an exhorbitantly high gas bill, well – you've had enough of the snow and winter. It's a lot of work — exhausting really. Your November sighs of bliss have turned to March sighs of weariness.
We Utahns are snow experts and connoisseurs. We know it when it has thawed and frozen over and grown glossy as vinyl. We know it when it's fresh fallen with the dry, matte finish of a chicken's egg. We describe the quality of the snow like an oenophile describes their favorite wines. I think it's quite possible that we Utahns have more names for snow than Eskimos do.
We have names for snow that's falling: Flakes. Sleet. Hail. Squalls. Flurries. We even have artificial snow.
We have names for it when it's on the ground: Corn. Pillow drift. Graupel. Crud. Frazil. Dusting. Boiler plate. Firn. Sometimes the groomers dress the mountain in the cloth of the king — Corde du roi.—
Talk to the skiers and they have a ton of names for ski conditions: Snorkel snow. Concrete. Slush. Northface Blue, that looks like it's made from Levi's lint. Corduroy, from the groomers. Solitude Suede. Dust on crust. There's hardpack that you skate over like a rollerblader on concrete, there's spring slush that's tacky as surf wax, and Tarpit Slush that stops you cold in its miry grip. And there's every skier's favorite: steep and deep.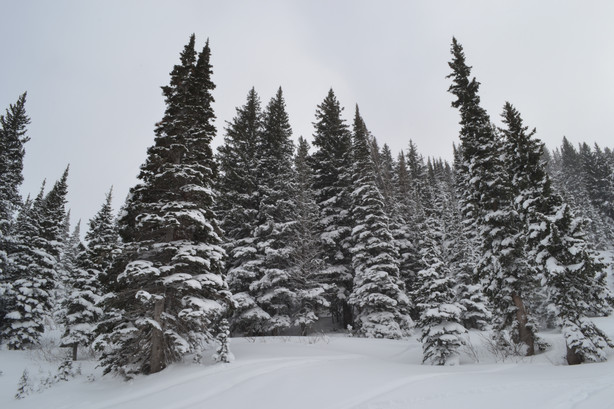 In my four decades wandering through Utah winters, whether it's been on snowshoes in the woods, or work boots in the fields I have seen snow falling lazily as dandelion fluff, and blizzards blowing past like light-speed stars. Once, snowshoeing in Big Cottonwood Canyon the wind blew the snow off the pines and it wafted over me in a frost-pollen of sparkles. Another time, digging holes for fence posts on a Thanksgiving weekend with my dad, we paused to marvel at the size of the snowflakes that came down in lazy clumps half as big as quilt squares.
Utah is also home to powder which is better than anything they have in Europe, and half of Salt Lake calls in sick to go sink their skis and boards into it. Then there's everybody's favorite type of snow — champagne. Frenchmen may drink champagne on the French Alps, but they have to come to Utah to ski it.
Give me ice augers and mealworms. Give me snowshoes and unexplored forests. Give me hot chocolate and marshmallows. Give me Jacuzzis in the falling snow. Give me a warm fireplace and mistletoe shivers. Give me the smell of woodsmoke, pine trees, and the linseed-and-mildew smell of yurt canvas. Give me sharp skis and sibilant susurras. Give me snowmobile rooster-tails and chairlift meditations.
Give me a thousand Wasatch winters. Let it Snow!


Steven Law is an editor for the ksl.com Outdoor and Recreation section. He can be reached at curious_things@hotmail.com.
Related Stories
0 Pending Comments
Sorry, we are not accepting new comments on this story, but if you have more to contribute please email
newstip@ksl.com
Showing of 25 comments
Sorry, we are not accepting new comments on this story, but if you have more to contribute please email
newstip@ksl.com