UTAH COUNTY — A Utah County man will leave for Antarctica next week with plans to accomplish something that has never been done. Dan Burton aims to become the first person to ride a bicycle to the South Pole.
"It will be a real challenge, because basically I'm alone for two months," Burton said.
That trek is stacked with all of the challenges you might imagine, and then some. Burton will saddle up and clip into his pedals for a potentially historic ride that never leaves the snow, promises consistent temperatures well below zero, dodges hidden crevasses, and rises 9,000 feet.
"The high temperature is probably going to be in the minus-teens," he said.
From there, the mercury drops all the way down to -40 degrees. While riding, he expects a 20 to 30 mph headwind most of the time.
He's sleeping in a tent, and cooking prepared meals. So, it's a tough solo trek on a fat mountain bike with four-inch knobby tires that perform well in the snow.
"I don't give in when I should," Burton says. "So, I think I've got the ability to keep going and make it there."
It's roughly 750 miles from the coast of Antarctica, where he'll start the ride, to the South Pole, depending on how well he navigates. He expects to cover 20 to 30 miles each day.
An expedition company will place three caches of food on his route and pick him up at the end. But, he's out there pedaling all alone. He can call for evacuation on a satellite phone, if something goes terribly wrong.
But, he won't ever ride in the dark. The sun does not set at the South Pole this time of year.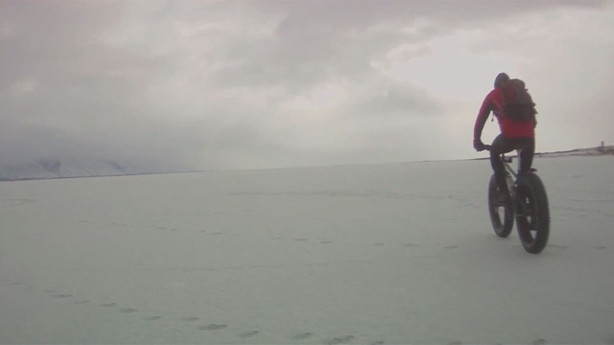 "The sun came up a month or so ago, and it doesn't set again until March," he said, adding that "it's going to be one very long day."
Burton opened Epic Biking in Saratoga Springs after a bad health check-up a dozen years ago led him to cycling.
"I figured I was about ready to die," he said. "I got into biking and figured it saved my life."
His mother died from a heart attack a year ago, and he wants to raise awareness for fitness as he pedals to the pole.
"If I can help somebody else gain fitness and live a longer life, then it's all worthwhile," he said.
He sent off his bike and supplies last week and will board a plane for Chile next Friday. He'll spend a week or two getting his supplies ready and acclimatizing to the environment before getting rolling Nov. 30, if all goes well.
He's been training on a mountain bike with fat tires, and last winter rode across frozen Utah Lake to get a slight taste of his upcoming expedition.
A man tried to make the trek and failed last year. But, Burton said the man made good progress and shared his insights with Burton, who hopes to learn from the other man's mistakes.
He's trying to fund the trip through gofundme.com but had to take out a loan to pull off the expedition.
He expects the ride will take him 30 days. But, he has to be done by Jan. 23 to catch the last plane out of Antarctica for the season.
Photos
Related Links
Related Stories
0 Pending Comments
Sorry, we are not accepting new comments on this story, but if you have more to contribute please email
newstip@ksl.com
Showing of 23 comments
Sorry, we are not accepting new comments on this story, but if you have more to contribute please email
newstip@ksl.com