SALT LAKE CITY — Unlike the last few seasons, if quarterback play again wrecks Utah's football aspirations it won't be for a lack of options.
Recognizing the program was woefully short on scholarship quarterbacks, coach Kyle Whittingham brought in three freshmen this season to compete with holdovers Travis Wilson and Adam Schulz. To reverse last season's losing fortunes, the Utes desperately need one of the five to emerge as a legitimate Pac-12 quarterback.
Three weeks before fall camp starts, the Utes are optimistic — as most teams are at this time.
"Everybody is looking really good," said junior tight end Jake Murphy, who works out with the quarterbacks several times a week.
It's about time.
In a conference filled with great quarterbacks, Utah has fallen far short of the necessary standard at the game's most important position. It's the primary reason for the team's 7-11 conference record since leaving the Mountain West.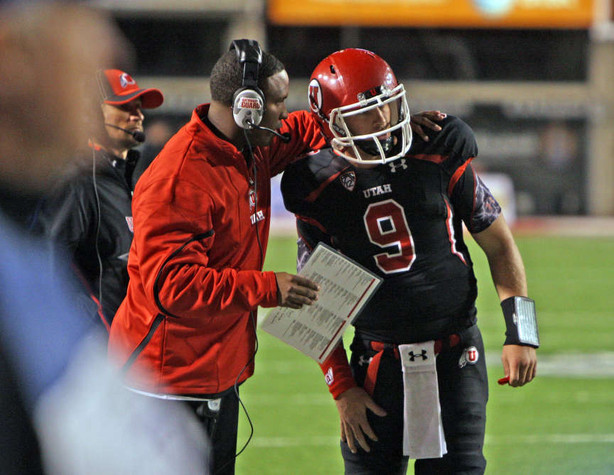 Almost by default, Wilson is expected to begin the season as the starting quarterback. Wilson started seven games as a first-year freshman, going 3-4 and at times showing enough promise to generate excitement.
But he was far from dominant, leading to the premise that the Utes can't afford to stick with him through any serious struggles. If Wilson starts slow it could turn the quarterback situation into a complete upheaval.
For now, Schulz figures to be the next in line to take over the offense. But the former walk-on has virtually no experience, throwing only two passes as a freshman last season.
If Wilson flames out, the future would be now for one of the three freshmen. For the short term, Utah needs Wilson to perform well, but over time it might be best to go with Brandon Cox, Conner Manning or Micah Thomas.
It's not unusual for a Division I program to have five quarterbacks on scholarship, but it's rare for three to be in the same class. Each of the three freshmen came to Utah believing he had a legitimate chance to play immediately.
As a junior, Manning broke Matt Barkley's Orange County (Calif.) record for passing yards in a single season with 4,219. His 9,449 career passing yards ranks second in the county behind Barkley's 9,471 yards.
The 18-year-old Cox graduated from Pasadena (Calif.) High School early and was listed as the co-backup after having participated in spring practice. A foot injury limited him to only two games as a senior, but as a junior he completed 151 of 249 passes for 2,697 yards and 26 touchdowns.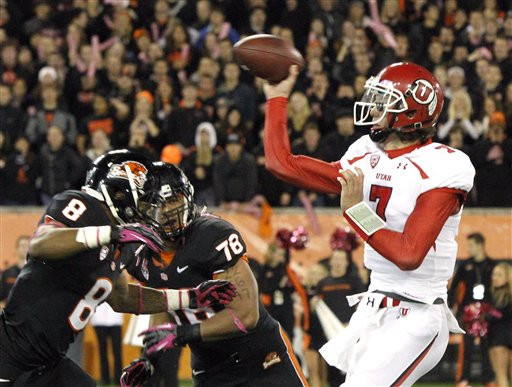 A dual threat, Thomas passed for 849 yards and six touchdowns and rushed for 734 yards on 92 carries (7.98 average) and 10 touchdowns as a senior.
In the freshmen's favor, Whittingham tabbed Dennis Erickson to run the offense. Even though he shares the offensive coordinator title with Brian Johnson, Erickson will have the final say. Since the longtime coach has no history with Wilson, it's easy to surmise that all the quarterbacks will get a fair shot.
Erickson was hired to make a difference. In effect, many jobs may hinge on him.
"He's had a big, big impact so far," Murphy said. "A whole new identity is the main thing, I think, him and coach Johnson are establishing."
At this point, few outside the program are buying it. Most prognosticators predict the Utes will struggle to reach the necessary six wins to qualify for a bowl game. And it's almost a lock that Utah will be picked ahead of only pathetic Colorado in the South Division when the preseason Pac-12 poll is announced next week during the conference's annual football media day.
Not that the Utes need any more added incentive.
"We're going in with a bit of an underdog mentality this year," Murphy said. "Last season alone was enough motivation for everyone coming back. Not making a bowl game and 5-7, that motivates me and us enough."
0 Pending Comments
Sorry, we are not accepting new comments on this story, but if you have more to contribute please email
newstip@ksl.com
Showing of 8 comments
Sorry, we are not accepting new comments on this story, but if you have more to contribute please email
newstip@ksl.com