Defensive line
The defense will be missing a Star but it is time for others to step up and shine. The defensive line is a place where the Utes have not only been dominant in the last decade, but the depth shelf has also been fully stocked.
Utah knew that they would be losing one of the most talented defensive tackles to the NFL draft in Star Lotulelei and Dave Kruger to graduation (now with the Cleveland Browns) but depth took a hit when Joe Kruger decided to enter the draft. He was selected by the Philadelphia Eagles in the sixth round.
Utah Defensive Linemen Lost from 2012, Season Stats
| Player | GP | Tackles (UA-A) | TFL | Sacks | INT | PBU | QBH | FR | FF |
| --- | --- | --- | --- | --- | --- | --- | --- | --- | --- |
| Star Lotulelei | 12 | 42 (12-25) | 10 | 5 | 0 | 4 | 0 | 4 | 3 |
| Joe Kruger | 11 | 30 (19-11) | 8 | 6 | 1 | 1 | 2 | 0 | 2 |
| Dave Kruger | 11 | 30 (10-20) | 0.5 | 0.5 | 0 | 0 | 0 | 1 | 0 |
That is 75% of the starting defensive line gone. Basically that means they need to replace 11.5 sacks and the best run-stopper in the Pac-12 conference.
Now what?
Well, the beauty about the Utes defensive line is they have been rotating eight to nine guys in for the last couple of years. Here goes the breakdown.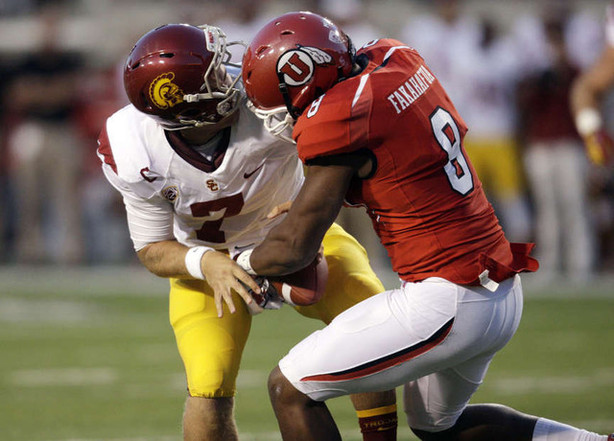 Nata (Fakahafua) Orchard is the lone returning starter and after a sub-par season in 2012, it is time for Orchard to take control. He is slated right now as co-starter at left end with Jason Whittingham but make no mistake about it, this is Orchard's position to lose and he is too talented to lose that spot.
Orchard was held out of spring practices simply for precautionary reasons. He means an awful lot to this defense as the main pass rusher and the coaches weren't about to let anything happen to him. Orchard had three sacks in 2012 and that number must double for the defense to take shape.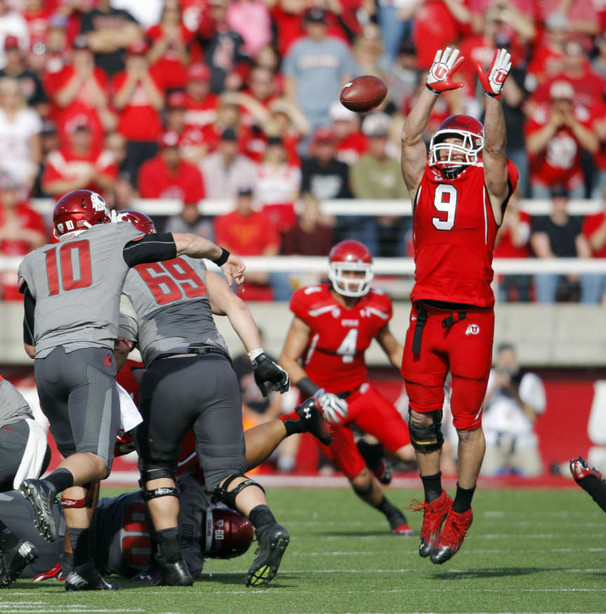 Trevor Reilly is listed as the starter on the right end along with Jason Whittingham. Again, this will be Reilly's spot to lose and with the way he has played throughout his career at Utah, he will find a way to be on the field on every down possible.
The difference for Reilly is that he is coming off and ACL tear of his left knee. He was in the "pit" all of spring but was working very hard to stretch it out and work through that.
Reilly is a leader on the defense. His attitude, work ethic, and leadership are essential for this team to succeed. He has been asked to do many things in his career at Utah like cover tight ends and stop the run, but I see him getting back to where he is great and that is wreaking havoc in the backfield. That is his strength but again, much will depend on his recovery from that knee injury.
Online Poll
The inside of the defensive line is a big question mark for the Utes. Tenny Palepoi, LT Tuipolotu, and Sese Ianu are all listed as starters at defensive tackle. Seni Fauonuku and Stevie Tuikolovatu had great spring camps and I can see "Stevie T" pushing for a starting position.
That is five players playing two positions not to mention the guys coming in this fall who were recruited but have not yet joined the team. Basically, five guys who have experience playing, just not starting experience.
This is a position group that is uncertain with all of the players that moved on to the NFL. It is also a position group that is always well coached on a defense that always turns out to be very good and respected. The question has to be who will step up to carry on the tradition and be dominant on the defensive line.
Running back
Offensively the Utes will also have the tough task of replacing one of the top performing running backs in Utah football history. Graduated is John White IV, a.k.a. "the Wolfman", who was the only Ute running back to rush for 1,000 yards in back to back seasons. Sure, it didn't hurt that the offense was centered around a QB getting the ball and handing it off to "Juan Blanco el Cuatro" thirty times a game, but the 2,560 yards racked up over the Utes' first two seasons in the Pac-12 certainly speaks for itself.
The running back competition in the spring was between four guys, but that number will be doubled to eight with four more recruits set to join the team in the fall.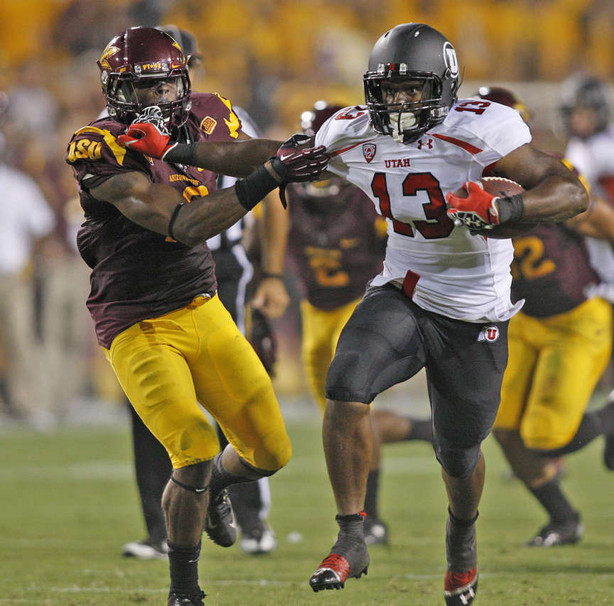 So who is the leading candidate to replace "the Wolfman"?
Senior Kelvin York appears to have the slight edge due to his game experience from last season. White's primary backup, York ran for 273 yards on 60 carries in 2012, hitting paydirt three times. York is a powerful downhill runner, but for whatever reason he hasn't been able to stay healthy, missing part of last season with an ankle injury and part of this year's spring camp with a lingering toe injury.
Listed as York's co-backups on the depth chart are James Poole, Lucky Radley and Karl "the Truth" Williams, all who had excellent spring camps.
Williams played exceptionally well this spring, piling up over 100 yards in each of Utah's last two scrimmages. His hard work didn't go unnoticed, earning him a full scholarship after being a walk-on his first two seasons at Utah.
Joining the team this fall will be recruits Devontae Booker, Troy McCormick, Marcus Williams and Dre'Vian Young, so co-offensive coordinator and running backs coach Dennis Erickson will have plenty of options as the Utes move forward into year three in the Pac-12.
2013 Utah Football Running Backs
| Player | Height/Weight | Year | Notes |
| --- | --- | --- | --- |
| Kelvin York | 5-11/220 | Senior | Favorite to start at running back ... powerful downhill runner is hard to bring down. Played in eight games, missing three late in the season (Washington State, Washington, Arizona) with an ankle injury, before returning for the season finale vs. Colorado |
| James Poole | 6-0/196 | Sophomore | Performed well in spring camp and is in a four-way competition at running back ... joined the team midway through the 2012 fall camp. |
| Lucky Radley | 5-8/187 | Junior | Great spring put him in a mix of four at running back ... with two years of eligibility remaining, he already has his bachelor's degree in sociology and has begun pursuing a master's. |
| Karl Williams | 6-0/243 | Senior | A walk-on his first two seasons, he was awarded a scholarship in the spring ... played fullback last season but is now one of four running backs competing for carries ... had an outstanding spring camp. |
| Devontae Booker | 5-11/205 | Junior | Signed with Washington State out of high school in 2009 ... has three years to play two ... first-team all-Valley Conference ... rushed for 1,472 yards and 15 touchdowns and also had nine receptions for 58 yards and two touchdowns in 2012 |
| Troy McCormick | 5-9/165 | Freshman | 2012 19-5A all-district co-Offensive MVP and first-team running back ... 2011 second-team 19-5A all-district running back and return specialist ... 2010 honorable mention 19-5A all-district running back |
| Marcus Williams | 5-11/212 | Freshman | All-Northwest League co-Offensive MVP in 2012 ... All-Nevada Football team ... beat nearly 1,300 other recruits in April 2012 by recording the highest score at the Nike Football SPARQ Combine in Long Beach, Calif., where he had the top 40-yard dash time (4.43 seconds) and vertical jump (39.4 inches) |
| Dre'Vian Young | 5-9/171 | Freshman | Young brings blazing speed. He was the Texas 5A 400 meter champion and his 46.80 time was the fourth-best in the nation by a prep in 2013. |
Related Stories
0 Pending Comments
Sorry, we are not accepting new comments on this story, but if you have more to contribute please email
newstip@ksl.com
Showing of 6 comments
Sorry, we are not accepting new comments on this story, but if you have more to contribute please email
newstip@ksl.com