EVANSTON — Police have released information about an officer-involved shooting that left one man dead after a series of shootings and a short high-speed chase Saturday afternoon.
In a statement released Sunday, Evanston Police said that an officer, as well as a Uinta County sheriff's deputy, shot and killed 43-year old Naim Keith Labaki after the man pointed a rifle at officers.
He had previously fired a gun in front of his parents' home and tried to rob a local sporting goods store, saying he wanted an automatic pistol and ammunition and threatening employees with a rifle and even firing at one, according to witnesses.
The incident began at about 2:00 p.m. when police received a report of a single shot being fired in front of his parents' home on the 800 block of Uinta Street. Labaki lived with his parents and apparently got into an argument with them before firing the round and heading into town with a rifle.
No one was injured in the first shooting.
Labaki then went to Sports World on Front Street and demanded a gun, police said.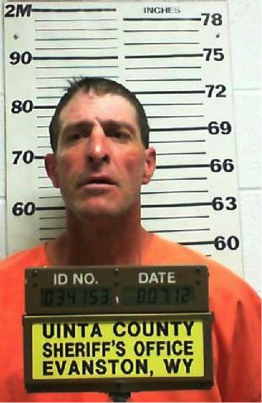 "He came in and was demanding a fully automatic pistol and some ammunition to go with it and we're like, 'We don't have fully automatic," said employee Raymond Fruits. "He goes, 'Give me an automatic pistol now,' and he's pointing the gun at our heads."
Labaki then pulled his vehicle in front of the store and fired a single shot into the building, according to police. It entered the front door and went through an ammunition stand, according to witnesses.
"As I went to go shut the door and lock it, he took a shot at me and went through the window and missed, probably about twelve inches or so, and missed me," Fruits said.
No one was injured in the second shooting either.
A short time later, the man was spotted by Evanston police officers in the area of Grass Valley traveling fast on Highway 150. Police said he pointed a rifle he was holding at officers while he passed, traveling north, in the opposite direction of police.
Officers followed Labaki. He lost control of his vehicle and spun out near the intersection with I-80, police said.
An officer disabled Labaki's vehicle by hiting the rear with an unmarked police vehicle, the statement said.
After his car came to a rest, Labaki again pointed his rifle at officers. It was then that an Evanston Police officer and Uinta County sheriff's deputy shot Labaki.
The man was transported to a local hospital for treatment where he was declared dead. Information on how many times the man was shot was not released.
Related:
The Wyoming Division of Criminal Investigation is investigating the incident. The officers involved in the shooting have been placed on paid administrative leave.
Labaki has a long criminal history, according to police. They said he has a history of drug abuse and that they've had run-ins with the man ddating all the way back to 1989.
"We are incredibly lucky today that we didn't have more damage, we didn't have more people wounded," said Evanston mayor Joy Bell.
Fruits said the entire incident could have turned out much worse.
"(A) couple customers in here that are locals that normally carry concealed (weapons)...just happened not to be carrying that day."
0 Pending Comments
Sorry, we are not accepting new comments on this story, but if you have more to contribute please email
newstip@ksl.com
Showing of 7 comments
Sorry, we are not accepting new comments on this story, but if you have more to contribute please email
newstip@ksl.com