SALT LAKE CITY — Paralympians, and the athletes who strive to be known as such, aren't so different from you or I, really.
They have the same hopes and dreams. Some are dealing with the consequences of past actions; others are victims of circumstance. They're veterans, cancer victims, survivors of horrific accidents. They work hard and are passionate about what they do — and they're fighting what seems like an uphill battle to accomplish their goals.
The battle is against misperception, according to Jeremy Holm, athletic director at the National Adaptive Sliding Sport Association.
"When you watch the Olympics, part of you thinks, 'I can be like that,'" Holm said. "With the Paralympics, that's gone, because you don't have a disability. You lose the ability to relate."
Holm is working with a group of local athletes to get bobsledding made into an official Paralympic event. One challenge is battling supposed public disinterest in the Paralympics: the events are rarely televised in the U.S., so advertisers are hesitant to provide sponsorships without a potential return on their investments.
What the athletes need, then, is greater visibility: a chance to be in the public eye, to show the public what they're missing when they tune out after 17 days of Olympic coverage. The athleticism of the events is no different than that of the Olympics, according to NASSA director Cody Reese.
Reese himself is a leg amputee — he was born without a femur — but sports were a regular part of his life growing up. Now, he's dedicating his time to redefining what disability in sports actually means, because according to him, the athleticism is no less impressive.
"With bobsledding, for instance, for people with ambulatory disabilities, there is no difference," Reese said. "For paralyzed athletes, there are racing harnesses and a cage, and the start the event seated in the sled."
Bobsledding isn't a Paralympic sport — yet. NASSA's goal is to make it one, though, along with the luge and skeleton.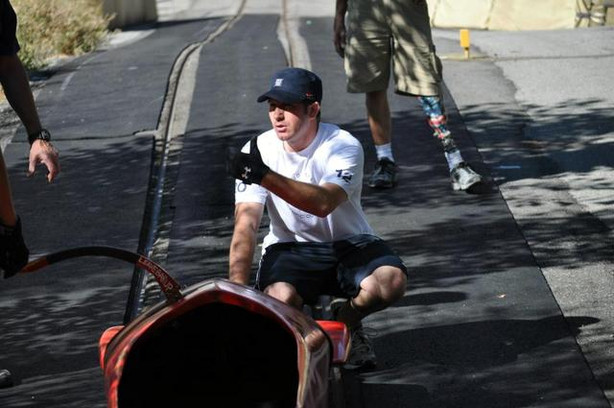 "Being able to say you can bobsled — it's an elite thing," Reese said. "And to be able to say you're the best at what you do, that you competed in the Paralympics … there would be only a few people in the world who could say that."
There are currently only five Paralympic winter sports, with an additional sport — snowboarding — being added for the 2016 Olympics. But adding three more would mean not only greater interest in the Paralympics, but greater opportunities for athletes, as well.
"To be able to represent your country is amazing," Holm said. "To be able to push past what you think you can't do, and discover what you can do — that's what the Olympic movement is all about."
That's what NASSA's all about, as well: teaching people to push past supposed limitations. Holm and Reese have seen people battle depression, addiction and suicidal thoughts before turning to sports for relief.
"The idea of being a bobsled driver for Team USA can be enough for them to make lifestyle changes," Holm said. "They realize they have a lot more opportunity than they thought they had."
A sport has to have a track record of successful competitions before being considered for inclusion in the Paralympics. NASSA plans to have their first international race this year. Their goal is to see bobsledding be included in the 2018 Paralympics. And hopefully as more athletes become involved, more people will watch.
"We like to watch the Olympics for national pride, and because they represent us," he said. "In reality, the Paralympics are only different in name. The hard work, ethics and inspirational value is the same."
Photos
Related Links
Related Stories
0 Pending Comments
Sorry, we are not accepting new comments on this story, but if you have more to contribute please email
newstip@ksl.com
Showing of 0 comments