PROVO — BYU football opened the spring practice session with a dance competition.
No, there were no signs of former Utahns and "Dancing with the Stars" dancers Derek and Julianne Hough. But the Cougars returned to the practice field Tuesday with an extra spring in their step — highlighted by a long-missed pair of shimmying hips and shoulders.
BYU running back Jamaal Williams returned to the team after taking a break in August, when BYU announced that the senior from Fontana, California, was leaving school for a semester for "personal reasons."
Williams used his redshirt during the 2015 season. But when he came through the gates behind the Student Athlete Building on campus, it was as if he never left.
"I love football, and being away made it more special for the first practice," said Williams, who moved into BYU's top 10 all-time for rushing yards and carries before a season-ending knee injury as a junior in 2014. "Putting your helmet on, having fun — but now I'm back into it. My special moment is over. I'm back to being a football player, and you have to smile and make the best of it."
Quarterback Taysom Hill — who also didn't know if he'd return to BYU until announcing his intentions last week — is experiencing similar feelings.
"I love playing with Jamaal, and I'm so glad he's back," said Hill, who will not practice in full during the spring as he recovers from surgery to repair a Lisfranc injury. "We were joking — this is 2016; can you imagine that we're teammates again at BYU? We had a good laugh. But I'm very excited to play with Jamaal again, and looking forward to it."
Hill acknowledged some speculation about where he would play this season — he could have entered the NFL Draft in April, for example. But Williams said not returning to BYU was never an option for him.
"I was going to come back, play, finish my years here and be a mature person. You've got to start where you finish," Williams said. "I'm always loyal to where I started, I come back to where I started, and I finish what I started.
"The transfer was never my concern. I was always going to come back and finish my college career here."
BYU's new coaching staff is grateful he returned.
"Jamaal is a fun guy, a good leader as well. But I think he fits in with what we are trying to do offensively," first-year BYU head coach Kalani Sitake said. "He's comfortable behind center, and we could do a lot of things with the run game. I don't know how much he needs to do live, but he wants to do as much as he can. They're already proven, but we want to make sure they're working and improving as much as they can."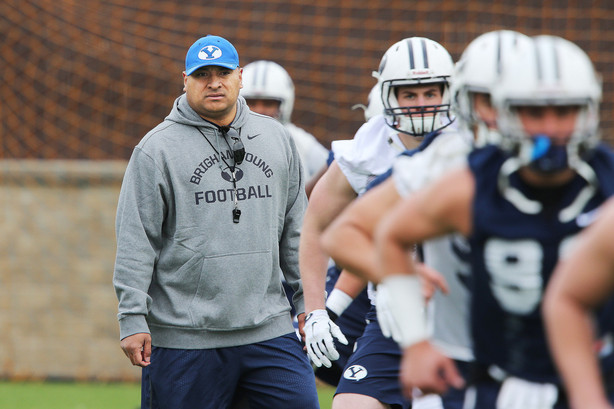 Even as BYU works to install a pro-style offense under rookie offensive coordinator Ty Detmer that's built around quarterbacks Hill and Tanner Mangum, the former Heisman Trophy winner from Texas said Williams' role will be vital in that transition.
"He's a downhill runner, runs really well between the tackles, but he can bounce if they force him to bounce," Detmer said. "He's a guy who can do it all, and I think he's going to do what we need him to do."
It helps that Williams loves the new offense, as well. The senior said, "I can breathe," when reliving the no-huddle option of former offensive coordinator Robert Anae. Even though a pro-style offense typically puts more emphasis on the quarterback, Williams is seeing immediate benefits to his own game in the back field.
"I love the pro. I don't have to be in a rush," he said. "You can get up to speed. I love everything in the backfield: powers, counters, rushes. It feels more comfortable than being on the sidelines. You get to see everything, talk more, see where the defense is, and where the play is going.
"With this offense, it's so simple, but you can do so many options with it. We can be strong all game, but we have different plays and routes for every player to go. This is great."
The first day of spring camp wasn't all rosy for the 21-year-old former freshman phenom, though.
"I feel old. In April, I'm turning 21 and I'm an old man now," Williams joked. "Taysom's like 30; we're just old farts and still playing some college football.
"We're having fun with it, and glad to be on the same team to finish our last year together."
Contributing: Jeremiah Jensen, Greg Wrubell
Photos
0 Pending Comments
Sorry, we are not accepting new comments on this story, but if you have more to contribute please email
newstip@ksl.com
Showing of 18 comments
Sorry, we are not accepting new comments on this story, but if you have more to contribute please email
newstip@ksl.com