SALT LAKE -- The champions of Major League Soccer capped off their amazing playoff run in grand fashion Tuesday with a motorcade and celebration at Rio Tinto Stadium.
Things got started at the Capitol, where RSL and its fans were basking in their hard-won glory. Thousands turned out to the official celebration up on Capitol Hill.
To truly appreciate this achievement, you have to consider how far the team has come. The team lost a lot of games in its first three seasons, often giving up late goals and losing when fans thought they would and should win.
That's made Sunday's big win, Monday's airport welcome and Tuesday festivities particularly sweet, especially for long-time fans. To do it versus the LA Galaxy, mega-world superstar David Beckham and U.S. superstar Landon Donovan, was all the better.
"It brings me a great, great amount of pride to bring the cup, to bring an MLS championship to what is now my home," said RSL Head Coach Jason Kreis.
Things got underway at about 3 p.m., after the team joined the governor and first lady for a luncheon on their behalf at the Governor's Mansion. Gov. Gary Herbert paid tribute to the team and its success in showcasing the city and the state on the international level in a way that's probably not been achieved since the Olympics.
"Now all of Utah are soccer fans," said Gov. Herbert.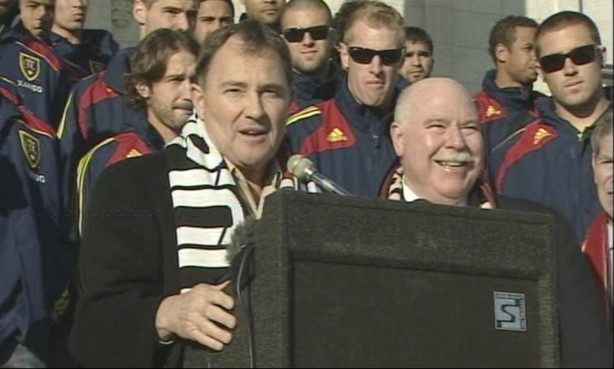 Salt Lake resident Julie Harper said, "I think this is great. It's the best thing to happen in Utah in 20-something years."
South Jordan resident Taylor Sandstrom said, "There's been a lot of naysayers, but I think this kind of proves this team is here to stay."
Gov. Herbert told the crowd, "This is a great day for the state of Utah. We claim to be the state of sport. This is a great example of what we're doing here in Utah."
Team owner Dave Checketts said, "I want to congratulate this tremendous group of young men who have brought pride to the state in the way they've conducted themselves and in the fact that they went on one of the great runs in sports history to become the champion of the world."
Goalkeeper Nick Rimando told the gathered crowd, "You guys supported us all the way through. You're the reason we're here. You're the reason we have the cup. To walk out there in Seattle and see patches of red all over the stadium was awesome."
And Sandy Mayor Tom Dolan said, "This team earned it. No one gave it to them. They earned it!"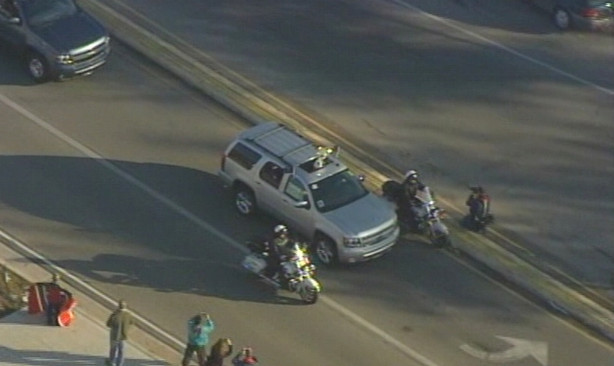 The team then made the 16-mile trek down State Street, accompanied by a motorcade procession, to Rio Tinto Stadium in Sandy.
An estimated 5,000 fans joined the team, ready to party.
The team spent a great deal of time thanking the fans for their support. Kreis thanked Utah for sticking with the team when times were rough.
"We have all made history together, and we are all part of this legend," he said.
Goalie Nick Rimando said his MLS Cup MVP trophy was nice, but, he said, "The real one is the MLS Cup. That's the one we wanted and that's the one we brought back here in Salt Lake City."
Team members Andy Williams and Kyle Beckerman don't want the winning to stop. Williams said, "We're looking to extend that trophy cabinet."
Beckerman said, "We're going to try and do this every year. This is too much fun."
One major ramification of winning the championship is that RSL will now host meaningful international competition at Rio Tinto Stadium. By becoming champions of MLS, the team is automatically entered into the tournament of regional champions known as CONCACAF. RSL will host three home games in that competition, something of huge value, both in terms of both dollars and prestige.
"The phones have been crazy the past few days. Season ticket sales have picked up dramatically, and you know, I'd like to get to the point that that stadium's full all the time. I hope this gets us there," Checketts said.
What's more, merchandise sales are also spiking. One hot item is jerseys, particularly those with the names Rimando and Russell on the back.
But the most important piece of memorabilia is one everyone is sharing -- the MLS cup, presented for the first time by team captain Kyle Beckerman. It was a sight that moved the crowd not to tears, but cheers.
Players are already looking forward to next season. "This is a city that supports its teams and I can only think that in the future we're going to get more support," said Nat Borchers, a defender for RSL.
Any way you look at it, this victory is an important one for the future of the franchise.
Beckerman said, "This is the first of many, hopefully. We're just starting to scratch the surface of this team. It's going to be scary next year when we can do some even more big things. We'll come right back."
It's worth noting this is a rare achievement. By winning a championship just five years after its first match, RSL joins an elite group, along with baseball's Florida Marlins, as the shortest span of time between joining as an expansion team and winning a championship.
Story compiled with contributions from Sarah Dallof, Paul Nelson and John Daley.
Photos
Related Stories