PROVO — As Cory Calvert took his first steps onto a competitive basketball court in two years, it would've been natural for him to show some rust.
That wasn't the case at BYU's annual Cougar Tipoff preseason scrimmage, though.
Calvert had 10 points, including three 3-pointers, on Wednesday night to lead all scorers in the first half of the annual event, which the Blue team won 66-60.
But Calvert didn't have a normal mission for The Church of Jesus Christ of Latter-day Saints. While he didn't get any time outside of Preparation Days to play basketball, the 6-foot-3 native of Parker, Colorado, did get to spend plenty of time with a BYU basketball legend.
Calvert served in the Boston Massachusetts Mission, which includes the address of a family known as Ainge — namely, Danny, the former BYU All-American from the 1980s.
"New England is a great place," Calvert said. "I think it has a reputation for having hard-nosed people, which it does. But the people are great; super nice and welcoming. A lot of people are very receptive to the gospel. I really enjoyed being a missionary in Boston.
"It's a great city with great history … I think it's definitely one of the coolest cities in the U.S."
Calvert finished his mission in Weston, Massachusetts, spending just over six months in the same ward as Cougar teammate Cooper Ainge. The duo were best friends before Calvert's mission, and serving in his family's ward for so long gave the longtime friends time to grow and mature in non-basketball ways.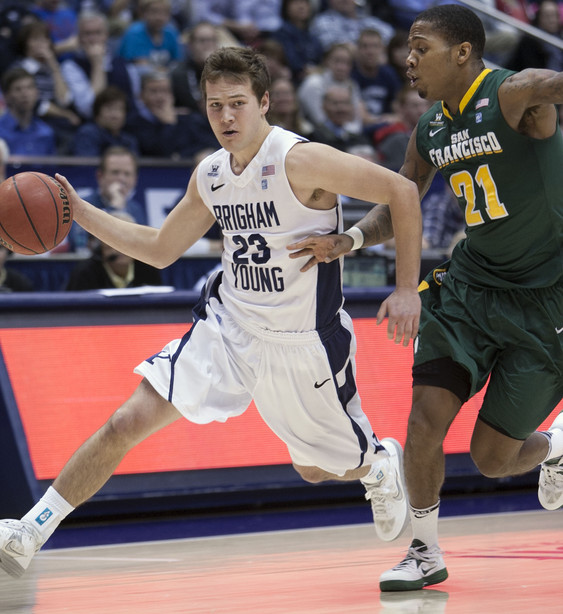 Calvert and his companion were frequent guests of Danny Ainge and his wife Michelle, whom the BYU sophomore said makes some of the best chicken of any church member in Massachusetts.
"That was pretty cool," Calvert said. "That was a cool area; I enjoyed that."
The former Colorado Class 5A MVP by the Denver Post and MaxPreps played in 28 games as a true freshman, when he averaged 1.9 points, 0.9 rebounds and 0.7 assists per game before his mission.
Now he hopes to step into a larger role after his mission. He certainly didn't take much time off to get back into Division I basketball shape since being released in the spring.
"We've had a couple of guys do this before and set the program for people coming back from missions," Calvert said, referring to BYU's all-time scoring leader Tyler Haws and current teammate Kyle Collinsworth. "For the first six-eight weeks, I didn't play in any live pick-up games. It was all individual work with coach (Quincy) Lewis and work on my own, just trying to condition and get back into shape.
"Those first six weeks were really important in getting my body back to normal, so I could get back to doing those things before my mission."
Calvert comes to BYU as a prolific high school scorer, averaging 22.3 points and 6.0 rebounds per game as a senior at Colorado 5A state champion Chaparral. That puts him in pretty good company with the current group of young players like former Bountiful star Zac Seljaas and Lone Peak standout Nick Emery, who all had motivation to show they could still score in their most competitive scrimmage of the preseason to date, coach Dave Rose said.
Related
"It's interesting that Zac was a big scorer in high school. Corey was a big scorer in high school. Elijah (Bryant, Elon transfer) was a big scorer," Rose said. "You get those guys to come out, and in these kind of games I've found that the team where the head coach is not sitting really comes out hard. They were going to make sure they played their best against the guys, and that's kind of how it turned out."
The key to Calvert's game — along with the rest of the BYU newcomers — will be consistency: fitting into an everyday rotation of squad players, even if they don't immediately get starter's minutes in a system that includes veteran guards Kyle Collinsworth and Chase Fischer.
"Kyle and Chase are the clear-cut leaders on our team. They've done a great job of rallying everyone around a common cause," Calvert said. "They're all very unselfish; it's not about any individual, but it's about the team. I think if we keep that mindset, we're going to have a great team."
Camaraderie will be key in replacing prolific scorers like Haws, as well as key reserve players Skyler Halford and Anson Winder of the past two years.
But that's where this year's BYU men's basketball team shines, Calvert said.
"I had a great team my freshman year that I loved playing with," said Calvert, who played on the 24-12 team that went to the NIT national semifinals in 2012-13. "But this team has great team chemistry, which is really important. I think that's really important."
Photos
0 Pending Comments
Sorry, we are not accepting new comments on this story, but if you have more to contribute please email
newstip@ksl.com
Showing of 5 comments
Sorry, we are not accepting new comments on this story, but if you have more to contribute please email
newstip@ksl.com