PROVO — For BYU track and field 800-meter athlete Shaquille Walker, the middle distance sprint isn't just a nice hobby, it's his passion. And it could be BYU's best shot at a national championship at this week's NCAA track and field championships in Eugene, Oregon.
Walker is ranked second in the nation in the 800 meters, and the BYU sophomore will also compete with BYU teammates Mario Harper, Sean Adams and Jesse White in the 1600-meter relay at the national championships.
"I ask myself that every day actually. Why do I love running so much?" Walker said. "I'm running around a circle, or an oval, and all I do is run around it over and over. And I never get bored. It's fun."
Walker was a two-time state champion at Richmond High School in Richmond, Georgia, as well as a four-time all-state award recipient. When it came time for the runner of the sixth-fastest 800 meters in Georgia high school history to decide on his college future, he had several choices. The nearby University of Georgia wanted him, as well as academic power Stanford and others.
But at the time, Walker was dating a girl who was a member of The Church of Jesus Christ of Latter-day Saints. Her father suggested he take a visit to BYU, and the trip changed his life, as well as his track career.
"Little Provo just stuck in my mind," Walker said. "It's what felt right, so I ended up committing to come here. Then a couple of months later, I met missionaries; they taught me; I got baptized and came here. Since then, it's been good."
BYU track coach Ed Eyestone knew Walker was a special talent.
"We knew he was going to be good," Eyestone said. "But I didn't realize just how great he would be until he got here."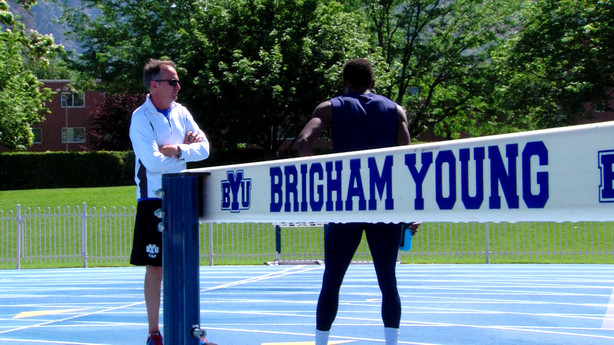 After his freshman season at BYU, Walker chose to step away from the track for two years to serve a mission in England. It was a decision a lot of people said he would regret, but his response has been the opposite.
"My parents were stressing about it because they aren't LDS," Walker said. "They were like, 'you're going to throw away your life, Shaquille.' But I just said I'd get a little fat, but I could lose it when I got home."
As good as Walker was before his mission, he's even better now. Just eight months after returning home from England, he broke the BYU school record in the 800-meter run with a time of 1 minute, 45.78 seconds at the Sun Angel Classic in Tempe, Arizona, in April.
He entered the NCAA preliminary trials ranked second in the country.
And there's only way to explain his remarkable improvement, he said.
"Blessings," Walker said with a laugh. "You learn how to do hard things in England. You're doing things that you never thought you could do mentally. When you come home, running two laps sounds pretty easy all of a sudden."
Eyestone said he's stopped being surprised by anything Walker does.
"I think we've all seen that Shaq has the tools and the closing speed to contend for a championship," Eyestone added. "That's very exciting."
That would include the college runner winning a national title, something he has square in his sights.
"I want to win nationals. It's what I want to do," said Walker, who also has future Olympic aspirations. "A lot of people will shy away from saying that, and just say 'I want to compete to the best of my ability.' I want to do that, but I want to win nationals, have fun, and when I'm winning, I'm having a lot of fun. Winning nationals is the goal."
With or without a national title this week, Walker is enjoying his unique journey to Provo.
"It's been a good adventure," he said. "I'm grateful that it's turned out the way it has."
Photos
Related Stories
0 Pending Comments
Sorry, we are not accepting new comments on this story, but if you have more to contribute please email
newstip@ksl.com
Showing of 3 comments
Sorry, we are not accepting new comments on this story, but if you have more to contribute please email
newstip@ksl.com