SALT LAKE CITY -- When hurricane-strength winds whipped through Northern Utah in December 2011, toppling trees, shredding signs, downing power lines, and tipping titanic semi trucks like toy boats, several of our Zions Bank branches lay in the storm's path.
Dozens of employees arrived to work on Dec. 1 to below- freezing temperatures as the forceful winds blew winter air through the ventilation systems and into branch lobbies. Though our Business Continuity department had procedures in place to operate offline and without electricity, there was no power to run the heating systems. We closed five branches in Davis County that day because of the intolerable conditions for employees.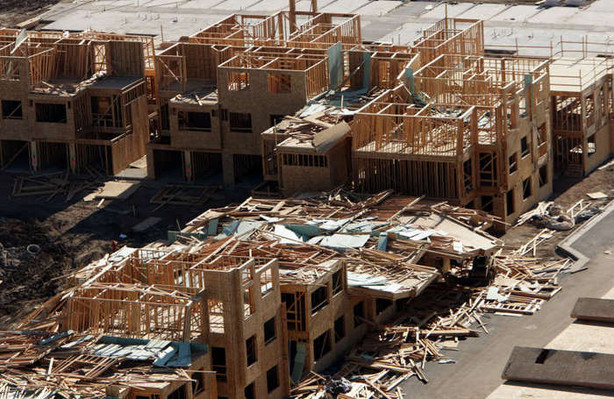 Zions Bank was fortunate in that our branches sustained only minimal damage from the disastrous winds and were able to reopen for business the following day. However, the December storm underscored the importance of planning and preparing for such an emergency. Though easily forgotten in the bustle of daily business operations, emergency preparedness is a critical part of business planning that companies can't afford to overlook.
Each year, major disasters force thousands of businesses to close. And even more common events like building fires, broken water lines or sudden loss of data can sideline a business. Small Business Administration research shows at least 25 percent of businesses that shut their doors following such events never reopenůand many that do struggle to survive.
Disasters hit businesses particularly hard because of the added cost of downtime and lost productivity on top of repairing or replacing expensive equipment, infrastructure and damaged property. Hurricane Katrina, the costliest natural disaster in U.S. history, affected fewer businesses than homes on the Gulf Coast, but businesses suffered greater financial damage. In a March 2007 article, USA Today reported that while Katrina damaged nearly eight times as many homes as businesses, business losses of nearly $21 billion exceeded home losses.
More significant than the financial costs associated with disaster are the potential human costs. Of course when an emergency strikes, our first concern will not be about profit margins and productivity, but about the safety and well-being of those who are affected, particularly our families, friends and coworkers. Businesses have a responsibility to both customers and employees to keep facilities and workplaces as safe as possible, to minimize lost work time and lost wages, and to continue to provide essential services to the communities we serve.
An emergency preparedness plan should include business continuity and evacuation planning, as well as protecting vital documents such as insurance records. Get to know your company's emergency plan, and if there isn't one, take the initiative to get the ball rolling. The State of Utah's website, www.bereadyutah.gov, provides helpful tools and checklists for creating, reviewing, updating and fine-tuning your plan.
Another excellent opportunity to ready your business for an emergency is to participate in the statewide "Great ShakeOut" event on April 17, set to be the largest earthquake drill in Utah history. More than 775,000 individuals, including nearly 28,000 business participants, have already signed up to take part in the event, which is aimed to encourage Utahns to prepare for major earthquakes so we know what to do before, during and after. You can find out more and register to participate at www.shakeout.org/utah.
Here are some additional steps businesses can take to help mitigate loss in an emergency:
Assess your risks
Perform an analysis of site risks, including flooding, high winds and earthquake. What are the most probable hazards that could occur near your business and how can you plan against specific types of interruptions?
Strengthen your facilities to withstand hazards.
Identify an alternative location to operate your business in case you need to temporarily relocate.
Prevent operational disruptions
Identify the most critical parts of your business that need to be up and running first. What operations most impact your bottom line?
Identify alternative suppliers or service providers and develop contingency plans for operating without suppliers or services. Add damage prevention or contingency planning requirements in contracts.
Develop employee emergency leave policies and offer incentives and/or training to employees to make their homes safer.
Protect critical data and vital records
Make sure you have ready access to documents or records that are vital to the survival of your business or organization, including documents that might be requested by an insurance provider, banker or tax accountant.
Secure computers to prevent damage and established a back-up system for critical information. Elevate and/or brace your inventory to protect from flooding and earthquake damage.
Maximize workplace safety
Identify structural weaknesses in your facilities and improve building strength in vulnerable areas. Secure non-structural hazards like lighting and HVAC equipment to prevent them from falling.
Develop special delivery arrangements of inventory after a disaster.
Offer first aid training to employees and customers.
Plan for a workplace evacuation and for sheltering in place
Map out a simple evacuation plan that includes assigning responsibility to assist employees and clients out the doors to increase exit efficiency. Prepare your workplace with the necessary supplies to sustain occupants for 8-12 hours for sheltering in place.
Review your insurance coverage Would your insurance claim benefit be enough to keep you in business? Identify alternate types of insurance to cover possible gaps.
Taking these steps to prepare now can make all the difference in the future success of your business.
0 Pending Comments
Sorry, we are not accepting new comments on this story, but if you have more to contribute please email
newstip@ksl.com
Showing of 1 comments
Sorry, we are not accepting new comments on this story, but if you have more to contribute please email
newstip@ksl.com