SALT LAKE CITY -- More than 100 Utahns took off Thursday to help deliver humanitarian aid in the quake-ravaged nation of Haiti. They are doctors, nurses, engineers and translators ready to roll up their sleeves and do whatever they can.
When the Utah Hospital Task Force arrives in Haiti, the No. 1 goal is to set up a tent hospital and help care for the wounded and the ill. It's arguably one of the most talented and diverse groups yet to mobilize to the shattered island nation.
The 127 medical professionals from across the state trimmed their packs in an airport hangar Thursday as they prepared to board a plane for Haiti -- 25 pounds per person, only the essentials, and few personal items. They all stuffed extra medical supplies into pockets.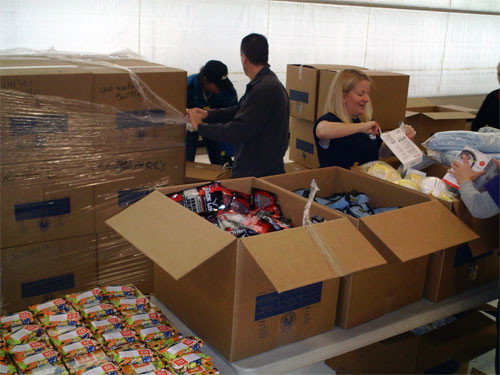 Daniel Cameau is an electrician, and a native Haitian. He balanced packing with some last-minute attention for his young son and wife.
"I'm excited to go and help any way that I can," Cameau said.
He's lived in Utah 10 years, and in the United States for 20. After the quake, Cameau waited four days to hear that his family was OK. He plans to help them move out of Port-au-Prince to the countryside.
"I'm excited to go and help, and the same time I have mixed feelings," he said. "In the circumstances that I find myself, and the things I'm expecting to see there, it's heartbreaking."
Among the Utah Hospital Task Force, 70 speak Creole. Many are members of The Church of Jesus Christ of Latter-day Saints who served missions in Haiti and know the people and the lay of the land.
Jeff Sorenson is one of those former missionaries. He believes that simply communicating comfort in the right language will make a big difference to suffering Haitians.
"There are so many people there to help," Sorenson said. "But we've heard the communication gap is just so massive, so that's what we're hoping to do."
He knows how desperate living conditions were in the country before the earthquake, and it's hard for him to imagine what the country looks like now.
Related:
"Haitians are good at holding on to hope," Sorenson said. "It's really all they've had for a long time, and it's so good the world is coming to help them."
Colton Miller also served a mission in Haiti.
"We know the culture, and I think that's a big thing," Miller said. "We know how to talk to the people there, get supplies where we need to get them, and get the help where it needs to go."
The Utah Hospital Task Force coordinated this relief effort with Healing Hands for Haiti. They'll set up a clinic -- a makeshift hospital -- at that destroyed compound.
The group's fundraiser and logistics organizer, Jason Taylor, saID they all feel compelled to help no matter what it takes.
"It's going to be hell," Taylor SAID. "We expect this to be something like we've never seen before."
Michael Kartchner, a volunteer from Cedar City, expects to help with everything from medical assistance to construction, and has a variety of skills to offer.
"I'm just glad I have the opportunity to go serve the people of Haiti," Kartchner said.
His wife tried to ease her anxiety as he made adjustments to his pack.
"It's a little bit scary, but I'm proud of him for making the decision to go," Faelynn Kartchner said.
The task force will arrive with $70,000 worth of medical supplies and doctors and nurses of all specialties. Medical coordinator Dr. Mark Rogers said his first priority is to make sure his team is safe so they can get to work helping with immediate needs of the people.
"They tell us it will look like a war zone, complete destruction," Rogers said. "The acute needs have been addressed, and we're down to see what other needs exist. I think we'll be able to provide some good care."
As a native Haitian, the entire expedition is overwhelming for Cameau.
"I want to say thank you to all of the American people who helped selflessly," Cameau said. "It's a good feeling to see that in a situation like this, you're not alone."
Task force organizers say this is just the beginning -- 850 more volunteers are ready to go. The task force expects to send more people in three weeks when the first group returns. When their plane returns Friday, 82 orphans will be on board.
------
Story compiled with contributions from Jed Boal and Randall Jeppesen.
Photos
Related Links
Related Stories