SALT LAKE COUNTY -- The Utah Transit Authority has picked a site for a new FrontRunner commuter rail stop -- the latest step in what has arguably been the agency's most contentious fight ever over a transit stop.
UTA selected Draper over Bluffdale, and one advocacy group is blasting the agency over the move. This is a major decision because it has multi- million dollar ramifications regarding development next to the rail stop.
The FrontRunner commuter rail project connecting Salt Lake with Provo hit a major obstacle when a fight erupted earlier this year. The proposal aimed to build a stop and massive development on more than 200 acres of archaeologically-rich, state-owned open space known as the Galena site, which had been slated for protection.
After much wrangling, UTA took that stop -- located at 13500 South just north of Bargerter Highway in Draper -- off the table, leaving three alternative sites: two in Draper, one in Bluffdale.
Now UTA has selected the site at 12800 South for that stop.
"UTA considered four possible station sites for this location," said UTA spokesman Brandon Bott. "UTA supports the governor's position to protect the Galena conservation site. The 12800 South location was the next best option."
Draper City zoned the original site for development of "unlimited height and unlimited density." That designation hasn't changed.
"That is still the case. It is unlimited height, unlimited density. That is all subject to approval by the city council, and there would be a public hearing that would be held," said Maridene Hancock, spokeswoman for Draper City.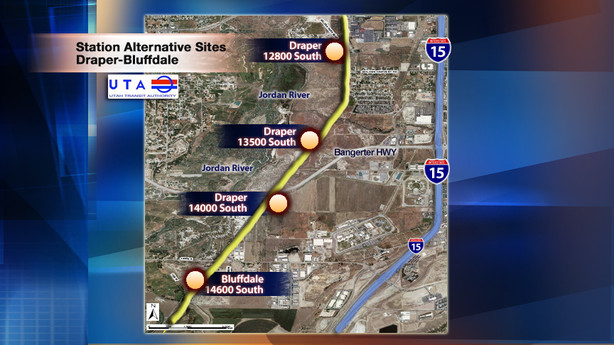 One critic of the earlier decision, the Utah Rivers Council, prefers the two southern options and blasted the latest move, saying there's been no archaeological inventory and that the pick was "essentially made at the midnight hour with no public input."
"There's a laundry list of questions about its impacts," said Zach Frankel, executive director of the Utah Rivers Council. "UTA has essentially ignored all that, swept it under the rug and pretended that it's not controversial. That's not transparent, open government."
UTA disputes that, saying it was a thoughtful decision with plenty of opportunity for the public to weigh in.
Meantime, Draper City has hired former Utah Republican Party Executive Director and lobbyist Jeff Hartley to help establish the stop and development next door. The city is paying him $50,000 for consulting services.
The original Galena site sparked controversy when UTA confirmed that a member of its board of trustees, developer Terry Diehl, had a financial stake in the adjacent project. UTA says that's not the case with the 12800 South site.
"No UTA board members have business interests in the 12800 South location," said Bott.
We asked if that included Diehl. Bott said, "including Terry Diehl." Calls and e-mails to Diehl were not returned.
E-mail: jdaley@ksl.com
Related Links
Related Stories