John Daley Reporting
David Yocom, Former Salt Lake County District Attorney: "Whether that be guilty or not guilty, a jury should have had a chance to look at it."
Lohra Miller, Salt Lake County District Attorney: "I think it's pretty cold in St. George and he doesn't have anything better to do."
The question, should the case of a Granite School District officer who shot an unarmed suspect go to trial? The former DA raises red flags after the new DA drops charges.
Just yesterday the DA's office admitted it had inadvertently released three suspects nabbed in a high profile drug arrest. Now, new Salt Lake County District Attorney Lohra Miller is fending off criticism that has nothing to do with the drug case.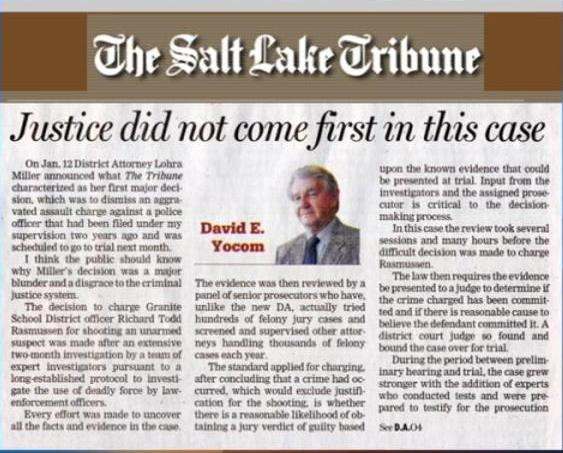 The complaints are coming from her predecessor, David Yocom. This is about the new DA, Lohra Miller's, first major decision. The case against a Granite School District police officer was scheduled to go to trial next month, but Miller dismissed charges and the former DA wonders if the motivation was political.
Lohra Miller is having a bumpy first month on the job. As Eyewitness News first reported last night, the DAs office accidentally released three drug suspects, including an elementary school PE teacher after it failed to file charges on time, the second time it happened this month.
The day before, former DA David Yocom sharply criticized Miller in an editorial in the Salt Lake Tribune about her first big decision. Granite School District officer Richard Todd Rasmussen was set to go on trial next month for shooting an unarmed suspect after a high speed chase. Miller dismissed charges against Rasmussen.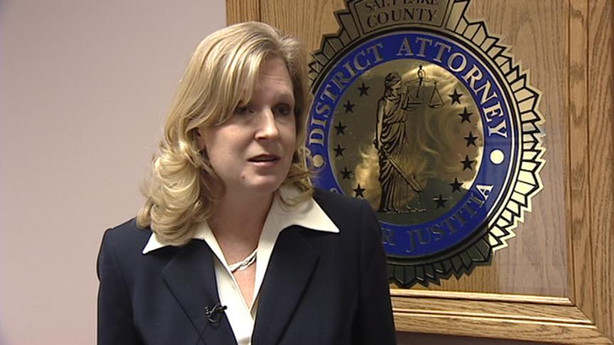 Lohra Miller, Salt Lake County District Attorney: "The suspect was unarmed, but had a history of being aggressive towards law enforcement officers, had a history of possession of weapons, and in this particular case tried to run the officer off the road. And at the time the officer shot, was lunging at the officer at close range."
Speaking to us from our St. George sister station KCSG, Yocom says the case against Rasmussen was strong; a seasoned team of prosecutors screened it and a judge agreed it should go to trial.
David Yocom, Former Salt Lake County District Attorney: "She comes in without any experience at all in dealing with felony cases. Has never looked at officer involved shooting case before in her life. Overrules what has been done for the last two years. I call that unfair and unreasonable."
Miller, a Republican, was elected after a very close campaign. Yocom, a Democrat, backed her opponent. He believes Miller dropped the charges to appease police organizations that supported her campaign.
David Yocom, Former Salt Lake County District Attorney: "I think there was certainly a connection to please the law enforcement groups that supported her. And one way to please them is to take a law enforcement officer off the hook on a very serious charge."
Lohra Miller, Salt Lake County District Attorney: "I never even knew this case existed until December. That is absolutely untrue."
As for the case of the drug suspects who were inadvertently released, Yocom is more sympathetic. He says it's the kind of bureaucratic mistake that happens from time to time when you have a lot of cases. There's a system in place to prevent it, but he doesn't blame the current DA.