WAYNE COUNTY -- Sheriff's deputies uncovered more than 20,000 plants in Wayne County, and drug authorities say it's not locals growing it.
The marijuana grow found in Wayne County Friday may be one of the biggest marijuana-growing operations ever discovered in Utah.
---
[They're] typically Mexican-based drug- trafficking groups that are extremely well-organized. They're well staffed.
–Jeff Sweetin, DEA
---
Sheriff's deputies in Wayne County say it's definitely the largest marijuana operation in their county's history. More than 20,000 marijuana plants were found on Boulder Mountain in a growing operation that rivals anything deputies have ever seen before.
According to the Drug Enforcement Agency, these marijuana plants had an estimated street retail value of up to $60 million. It certainly was not a small operation, and it took the past two days just to get all the plants and all the growing equipment off the mountain.
"There were in the vicinity of 60 helicopter loads that were hauled out of that mountain to be destroyed today. It ended up going in three dump trucks. It was very, very large," said Tal Ehlers, with the Wayne County Sheriff's Office.
Recent pot farm busts in Utah
2009
• August 28: Wayne County- 20,000 *mature plants removed
• August 26-27: Tooele County- 3,113 plants removed
• August 6: Garfield County- 4,500 plants removed
• July 2: Wayne County- 11,000 plants removed
• June 19: Washington County- 8,800 plants removed
• May 20: Wayne County- 29,000 plants removed
2008
• October 21: Sanpete County- 23,000 plants removed
• September 3: Garfield County- unknown amount
• August 30: Sevier County- 18,000 plants removed
• August 29: Iron County- 15,000 plants removed
• July 30: Wayne County- 7,500 plants removed
* mature plants are 4 to 6 feet tall
The criminals behind Utah pot farms like this are well-funded and well-organized, according to Special Agent in Charge Jeff Sweetin, with the Drug Enforcement Administration's Rocky Mountain Division.
"[They're] typically Mexican-based drug-trafficking groups that are extremely well-organized. They're well staffed," Seetin said.
Division of Wildlife Resources Chief Mike Fowlks the drug traffickers have very specific reasons for choosing Utah to grow their crops.
"There's lots of wide-open spaces," Fowlks siad. "These are pretty complex infrastructures. They're hauling in big irrigation pipes. They're hauling in water pumps. They're camping."
The growers harvest the marijuana then backpack it out for distribution. Sweetin says it usually goes somewhere on the streets of the United States. That is, if they don't get caught first.
"The law enforcement officials in this area, regardless of the resources, are on top of that. They will take these grows out," said Tal Ehlers, of the Wayne County Sheriff's Office.
Authorities say in most cases, it's hikers or hunters who first stumble upon these pot farms. Wayne County Sheriff's deputies discovered this marijuana farm on Boulder Mountain and one of the operators after getting a tip from someone.
Did you know…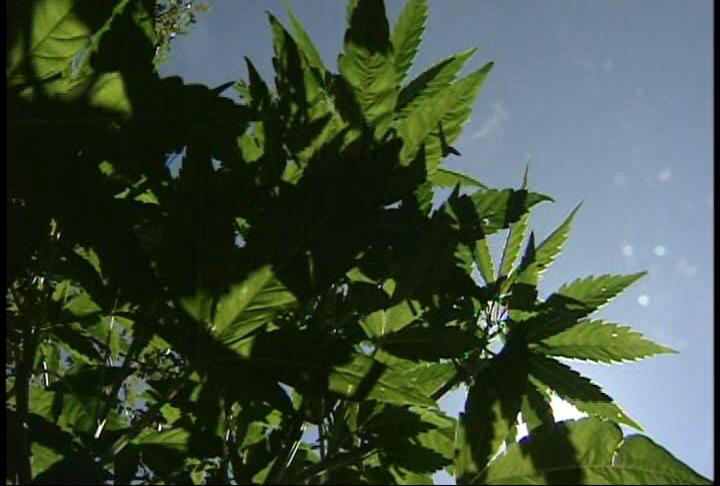 The majority of marijuana encountered in Utah is of Mexican origin. Marijuana is also grown in the remote areas of the state, which are most conducive for growing operations due to the fertile soil. Also, the importation of marijuana from British Columbia, Canada, remains active in Utah. -
Drug Enforcement Administration
An elk hunter alerted authorities after he spotted the first of two pot farms in Ophir this week.
Investigators say the problem is operators are becoming more protective of their grows and are usually armed. As hunting season approaches, that could spell danger for hunters.
"If you encounter the grow, don't make contact. Get out as quickly as you can and call the authorities," Fowlks advised.
Deputies caught one of the growers at the Wayne County operation and charged him, but others got away. The man is currently in the Sevier County Jail, but deputies don't know who he is just yet. His immigration status is being questioned.
A lot of resources are being directed at eradicating marijuana farms, like the Bureau of Land Management and the Division of Wildlife Resources, because these farms are mostly on public lands. Of course, the DEA is working at it too.
------
Story compiled with contributions from Courtney Orton and Alex Cabrero.
Photos