Gene Kennedy Reporting
A number of Utah drivers found it very tough to stay on the road tonight. As snow continued to pile up, so did the accidents.
Billy Trujillo / Driver: "A little scary. With that first accident I had to put my brakes on, and I almost felt like I was going to slide off the road."
The snow just won't let up. It's day two of our storm and we've had crashes about every 20 minutes. The timing for this storm couldn't be any worse.
A lot of people are wrapping up Christmas shopping, and digging out, too It's not how many people wanted to spend one of the last shopping weekends before Christmas.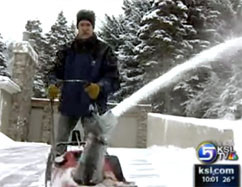 But if you were at home clearing snow from the sidewalk, be grateful you were there and not trying to drive.
"You just got to be careful. It's pretty crazy."
Evan Johnson would know.
"It happened really fast."
A car crash.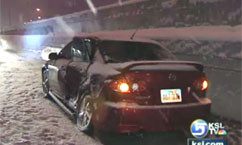 Evan Johnson / Got into Accident: "Some black ice. I just lost control and then you're done for."
Gene Kennedy/ Eyewitness News: "Were you going too fast?"
Evan Johnson: "No. I don't."
Gene Kennedy/ Eyewitness News: "Was Mr. Johnson going too fast?"
Trooper Thomas DeCarlo/ Utah Highway Patrol: "Yes, and when he hit his brakes he was in a slushy area and he caused an eight car traffic collision."
It was a domino effect of damage in a danger zone. There were dozens of crashes today on I-15 between 5000 and 9000 South.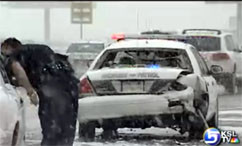 Even a trooper fell victim. Someone hit his car while he was cleaning up an accident.
Sgt. Keith Dockstader / Utah Highway Patrol: "Fortunately he was in the driver's seat. If he was out of his vehicle it could have been much worse. In this case the other driver was uninjured also."
Luckily, few if any have been hurt despite all these wrecks.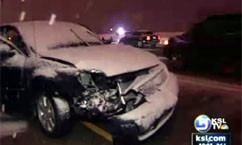 One explanation for all the crashes is so many cars on the road. The Jazz played this weekend. Christmas shopping is also getting down to the wire. And there are holiday events.
Fred Olson / Trucker: "People have the holidays on their mind. They want their dinners, their presents. They're just not thinking straight."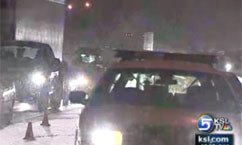 From midnight to 8:30 tonight, there were 25 accidents in Utah County, but 180 crashes in Salt Lake County in that same time frame. Again that's from midnight to 8:30 p.m.
One trooper told me this is the result of stupidity.