Team coverage
A package with suspicious powder turned up at the State Capitol today and led to the partial evacuation of the office of Gov. Jon Huntsman. Utah now joins about a dozen other states where governors have been sent these suspicious packages.
In all those states, the powder inside the package was nontoxic. This afternoon, the FBI said field tests on the powder sent to Utah's Capitol were negative for organic toxins like anthrax and ricin, as well as radiation.
The white powder was discovered by a woman working inside the governor's office just before noon. She opened what is described as either a package or a letter and found the substance.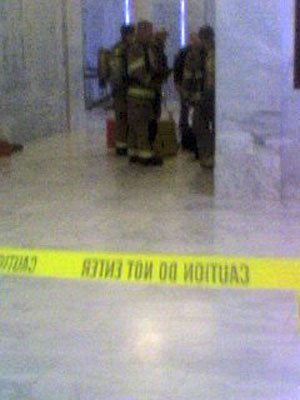 "[Utah Highway Patrol] troopers were called, Capitol security and hazmat were brought in. There was a small evacuation," said Lisa Roskelley, spokeswoman for the governor's office.
A small evacuation was ordered for a section of the governor's office, about 10 people. Two women, including the one who opened the package, went through a decontamination shower. We're told they're doing fine.
The Gov. Jon Huntsman was in the Capitol at the time but was not in the evacuated area and continued his schedule of meetings.
The Georgia and South Carolina state capitols received suspicious envelopes filled with white powder today, as well.
Officials said one envelope was opened in the office of South Carolina Gov. Mark Sanford. Another was found in a mail room at the Georgia Capitol, but there was no evacuation.
Envelopes containing suspicious powder have been received this week by governor's offices in Alabama, Alaska, Hawaii, Maine, Michigan, Minnesota, Mississippi, Missouri, Montana, Oklahoma, Rhode Island and Texas. Officials in some of those states said the powder was flour, corn starch or some other harmless food substance.
The majority of the letters have been post marked from Dallas, Texas. FBI agents here say that the letter sent to Utah's Capitol was not post marked from Dallas, But they declined to say exactly where it was from.
E-mail: spark@ksl.com
E-mail: sdallof@ksl.com
E-mail: tcallan@ksl.com
(Copyright 2008 Bonneville International Corporation. All rights reserved. This material may not be published, broadcast, rewritten, or distributed. AP contributed to this report.)
Photos
Related Links