Emotions ran high Saturday as thousands of people rallied in downtown Salt Lake, sharing their opinions on both sides of the issue of same-sex marriage.
As day turned to night, hundreds of same-sex marriage supporters attended a candlelight vigil at the state Capitol that promoted a call for equality.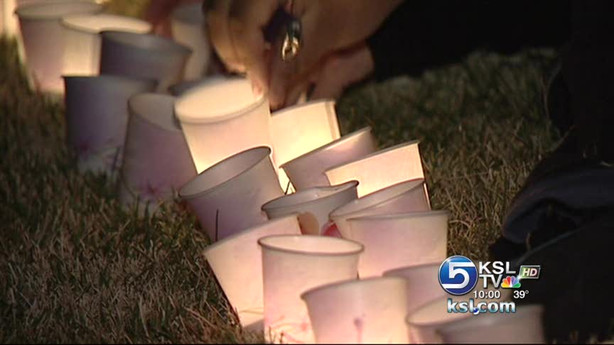 Same-sex marriage supporters are extremely upset over California's passage of Proposition 8, which bans same-sex marriage. They vow to rally until things change. But those against same-sex marriage say the people have voted.
At the vigil, the crowd used 10,000 candles to spell out the word "equality" on the Capitol lawn. Vigil organizer Patrick York said, "Every single one of these candles represents a hope, and that hope is equality."
As same-sex marriage supporters lit candles, they talked of the future. Matthew Landis said, "We're going to go to every single thing that comes up until this changes."
The peaceful vigil contrasted with demonstrations this afternoon at the Salt Lake City-County building. Those for and against same-sex marriage stood just feet apart.
A supporter of same-sex marriage said, "We're here to show that all Americans deserve to love in equal ways." An opponent of same-sex marriage said, "I don't believe traditional marriage should be changed in any shape or form."
By police estimates, close to 3,000 people listened to speeches, held signs, and marched in support of what they feel should be a basic civil right: marriage.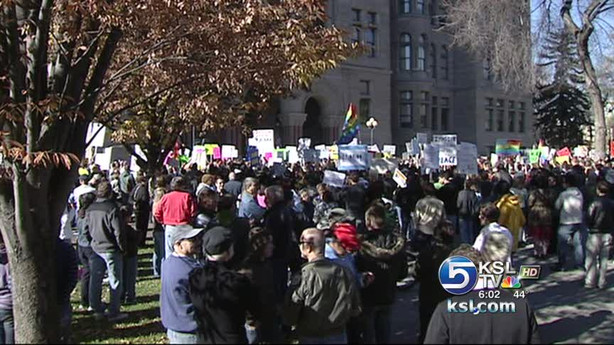 Todd Whitaker said, "They can't tell me what my laws and rights are as a constitutional citizen of the United States of America."
The rally opposing Prop. 8 was held in conjunction with similar events in other cities across the country today, organized by a group called "Join the Impact."
Just down the street, a small group against same-sex marriage gathered to rally against what they feel is wrong. Lonnie Pursifull said, "We can't allow these sodomites to march through our streets."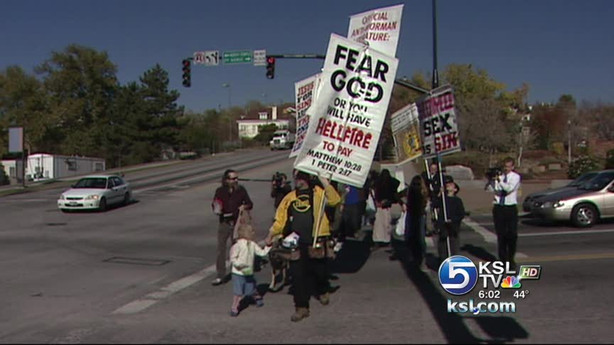 When the two sides came together, the back and forth began. We heard things like, "Shame on you," "Church and state separate," and "You are ignorant."
Both sides say the other side is wrong. One demonstrator said, "I think they're very misinformed as to what's going on." Someone on the opposite side of the issue said, "I think they're wrong. They're shouting 'Stop the persecution.' That's what we should be shouting."
Passion runs deep on both sides of this issue. Lloyd Behunin is against same-sex marriage. He said, "We're all going to face judgment. Period." Loraine Ball supports same-sex marriage. "My basic three words are peace, love and equality," she said.
Both sides stood firm in their beliefs, convinced the other side couldn't be more wrong.
Pursifull said, "Many people in the United States are against gay marriage, and these guys are a bunch of babies figuring if they scream enough we'll give in." Michael Mueller said, "It's a no-brainer. It doesn't impact society. It benefits families. It benefits couples."
Same-sex marriage supporters already are planning new rallies. Those against it say they'll be there, as well.
While law enforcement did have to step in between people at a few points today, they report no major problems and nothing that led to any arrests.
E-mail: sdallof@ksl.com
E-mail: acabrero@ksl.com
(The Associated Press contributed to this report.)
Related Links