The Church of Jesus Christ of Latter-day Saints is reacting after a group of LDS and former LDS members delivered letters to church headquarters to protest the church's involvement in California's gay marriage debate.
Kim Farah, spokeswoman for the LDS church, said, "What good are churches for if they can't speak out and lead and guide and direct people on moral issues?"
California voters will decide on Election Day whether or not to change the state's constitution and define marriage between a man and a woman. The LDS Church is encouraging its members in California to support the Protect Marriage Coalition and campaign for Proposition 8, but it's a stand that upsets some LDS members.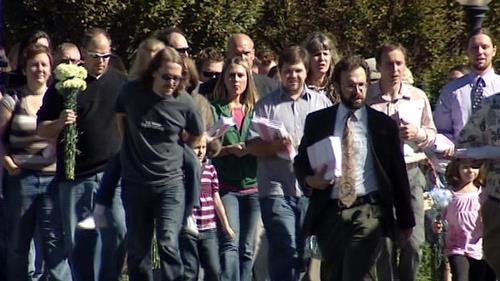 About 50 people, singing and carrying flowers took their letters and petitions to church headquarters. A church representative accepted the letters and petitions outside of the headquarters of the LDS church this afternoon. It was a cordial exchange on an emotional issue that both sides have strong feelings about.
Andrew Callahan, an LDS member opposed to Proposition 8, said, "We have hundreds of people who have prepared these letters and signed our petition, and we would very much appreciate if the leadership of the church would read these letters and listen to the members of the church."
Some LDS members were there to support a family member who is openly gay. Zan Burningham, an LDS member opposed to Proposition 8 said, "It really makes me sad that they would politically weigh in on this issue."
Linda Stay's son is a returned missionary, now married legally in California. Stay doesn't think the church should be involved in supporting Proposition 8. "It's about people's right to enjoy the same protection that you and I enjoy," she said.
Organizers of today's march call the church's involvement wrong and believe it will discriminate against those who are gay.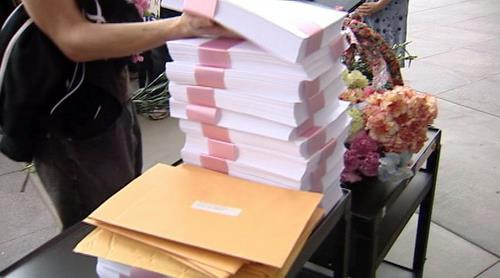 "This will cause people who may be of another religion who want to be married in their church, will not be able to be married, because our church has taken such a strong stance and pushed for its own agenda," Callahan said.
The LDS Church is just one of many faiths involved in promoting marriage between a man and a woman, and leaders believe the church has a duty to stand up for traditional values.
Farah said, "The Church has always recognized that there would be some who would feel differently about this issue, and quite passionately about this issue, than the church does. We also understand that if affects people very privately and deeply in different ways. However, the Church as a religious faith has a moral obligation to speak out on issues, which it feels affects the moral fabric of society."
LDS officials also emphasized that the official church position is that traditional marriage is "of an immense importance to a wide spectrum of faiths."
E-mail: spenrod@ksl.com
E-mail: mgiauque@ksl.com
Related Links