WEST DESERT, Juab County — Life is peaceful in the West Desert. It's a beautiful part of Utah, but living in an extremely rural area has its own set of unique challenges.
Mornings start early for residents in the small communities of Juab and Tooele counties. Ranchers are up and working earlier than most people to tend to their animals and provide for their families.
Barbara Mumm never thought she would become a goat rancher, but living in Partoun meant there weren't many options for her.
Partoun, and the nearby small communities of maybe 50 people, are surrounded by seemingly endless miles of dirt roads in Utah's West Desert near the Nevada border.
"We have all of the modern conveniences that anybody in town has," Mumm said. "It just takes two hours to get to town.
Being so remote means making a living is tough. There isn't a gas station, restaurant or grocery store anywhere nearby.
Mumm believes Partoun needs "some kind of industry" to give residents more options for work.
"Rural Utah pretty much has the same problems all over," Mumm said. "The kids are leaving. There's nothing for them to come back to."
Partoun currently has two schools — an elementary school and a high school — with 25 students enrolled total. This year's graduating class is two.
Daniel Kimball, a new teacher at West Desert High School, said there used to be 150 students enrolled in the high school and now there are only 12.
Besides being offered the teaching job, Kimball moved to the area for the incentives he and his family would benefit from.
"We don't have to pay housing or utilities, which is amazing," Kimball said. "That was another one of the big draws, so I don't have to have a second job just to try and pay the rent."
Kimball also has the opportunity to teach more than one subject, such as guitar, Portuguese and gym class. He also said discipline isn't a problem because all of the families are "nice" and "involved."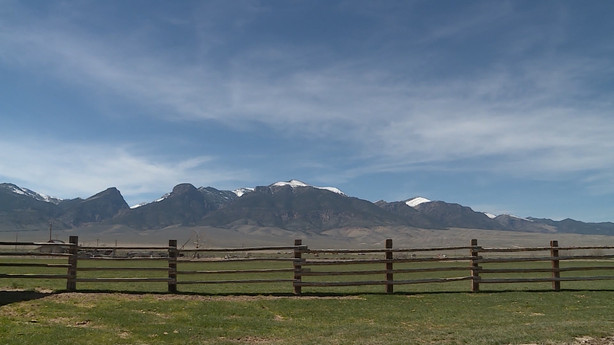 Even with agricultural and educational challenges, the biggest issue might be water. Ranchers have enough for their animals, but southern Nevada really wants in, said Annette Garland, a rancher in neighboring Callao.
"It's been a long battle," Garland said. "We've been in this battle since 2004."
Garland has a ranch in Callao, about 20 miles north of Partoun, and is worried about the ongoing fight with southern Nevada's Water Authority. The government agency wants to build a water pipeline.
"There's not a surplus of water here," Garland said. "They build the pipeline, they take the water, it devastates this valley and it'll be a few years, and then they'll have to go somewhere else."
So far, Utah Gov. Gary Herbert has sided with the West Desert community.
It's an issue Garland feels the community has already won, but with southern Nevada starting another campaign for the water, residents may have to fight again.
"I think it's important to know that with a grassroots effort, you can succeed," Garland said.
Even if they are successful in the water battle, some residents are still worried about the long-term survival of their West Desert communities. The handful of ranching jobs is enough to allow for some families to live there, but as far as growth, Mumm just doesn't see it.
"We don't have to be a big city," Mumm said. "But we need something."
Contributing: Yvette Cruz
Photos
0 Pending Comments
Sorry, we are not accepting new comments on this story, but if you have more to contribute please email
newstip@ksl.com
Showing of 10 comments
Sorry, we are not accepting new comments on this story, but if you have more to contribute please email
newstip@ksl.com