Team coverage
The funeral for Brian Wood will be Friday at 2 p.m. at Westminster Presbyterian Church in Fruit Heights. The Deseret News is reporting the Farmington Fire Department has agreed to carry Wood's casket from the church to the cemetery on a fire truck, but Wood is not receiving a regular firefighter's funeral.
Wood was shot and killed during a standoff on Monday. Today, there's new information about that deadly shooting. The Davis County Attorney's office released a statement saying it was a Davis County Deputy who shot and killed 36-year-old Brian Wood.
The statement this morning said, "A thorough, fair, and objective review must be conducted to determine whether the officer's decision to use deadly force was justified."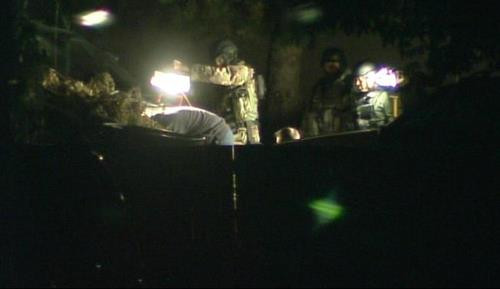 Normally the Davis County Attorney's Office would conduct such a review; however, in this case, it will request that an outside and independent agency review the matter and make that determination.
The Officer Involved Fatality Investigation Team of the Utah Attorney General's Office will lead the review.
The statement from the county attorney's office said, "While we are confident that we can and would make the proper decisions based on evidence, fact, and law, we are mindful that any questions related to potential conflicts between sister branches of Davis County Government should be eliminated."
Last night in a press conference at the Farmington Police station, Chief Wayne Hansen said that several other agencies, including the Bountiful, Centerville, and Davis County departments will be assisting in the investigation.
"Some assigned to the crime scene, some to interview officers, others assigned to certain administrative tasks. They'll continue to perform their functions and compile reports, data, evidence and put them together into one final report and get an accurate picture of everything throughout the whole incident," Hansen said.
Investigators were on scene Tuesday collecting evidence from Monday night's deadly standoff. Police say they responded to Brian Wood's home at 9 a.m. for a domestic dispute call.
When they arrived, Wood fired one shot into a garbage can and then sat in his black pickup truck with two guns for nearly 12 hours. Police say Wood was making verbal threats and pointing his gun at himself and officers.
At about 9:30 p.m. officers made a decision to try and take Wood into custody using non-lethal techniques. They used flash-bang grenades, baton rounds and pepper ball rounds, but amid all of that a deputy fired a single shot. Police still are not saying what motivated the deputy to fire that shot.
During the course of the day, Wood did fire two shots from his gun. One was early on when he fired into a garbage can. The second shot is in question. Authorities are investigating if that second shot is what initiated a response from the deputy.
Hansen says Wood was acting belligerent and threatened police, and that he "displayed a gun several times." Police won't comment on if a Taser was used.
Wood and his wife have a history of domestic disputes. Police say earlier this year there was a similar standoff situation at the same house. In that situation, police were able to talk Wood into surrendering in just four hours. Police say this was a different situation but would not give specifics as to why.
Today Farmington police asked KSL-TV to provide videotape of what our cameras captured on the scene that night. Obviously, police believe that tape could help them in sorting out the exact sequence of events.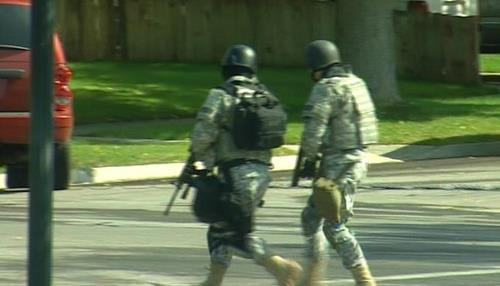 A friend of the Wood family who has been with the family for the last few days told KSL the family is absolutely devastated about what has happened.
Friends and neighbors of Brian Wood have reacted angrily to the handling of the situation and have held several protests. Some are even calling it a forced suicide.
Wade Lake says he has known Brian Wood since the fourth grade. He videotaped the standoff. "I could hear him screaming in his truck from the pain, just like a caged animal, somebody sitting there just torturing the poor thing, trying to get it to chew its own leg off," he said.
Wade says he asked police if he could negotiate with Wood, but police said no. He says police have forgotten the lessons they learned when they peacefully ended a previous standoff with Wood back in April.
"I wanted to talk to him like crazy. I know I could have got him to just settle down. That's all he needed was just somebody to break that tension instead of more tension just being thrown in there," Wade said.
The protesters said if Wood had been allowed to talk to friends or family, the situation would not have ended the way it did.
Melanie Lake, another friend of Wood's, said, "One of his police officer friends could have walked across the street and talked to him. There was plenty of people that were willing to talk to him and plenty of people who weren't allowed to talk to him."
Hansen responded to those remarks saying that law enforcement protocol does not allow untrained individuals to speak to someone in a standoff situation.
Could the situation have been defused peacefully? Investigators in the attorney general's office are likely to probe that and a number of other questions.
E-mail: tcallan@ksl.com
E-mail: wjohnson@ksl.com
E-mail: jdaley@ksl.com
Related Links