SALT LAKE CITY — Critics of a plan to bury a unique form of radioactive waste in Utah's western desert fear a new federal lawsuit may hasten the arrival of the material that grows increasingly radioactive as it decays.
The U.S. Department of Justice filed an antitrust lawsuit in mid-November against Salt Lake City-based EnergySolutions over its pending acquisition of Waste Control Specialists, which operates a competing west Texas facility handling low-level radioactive waste.
Acting Assistant Attorney General Renata Hesse of the DOJ's antitrust division said the Texas company is the only "real competition" EnergySolutions has faced since the Texas facility opened four years ago.
"This competition has allowed customers to extract better prices and to receive more innovative service in the (low-level radioactive waste) disposal industry," she said, adding that a successful acquisition would leave customers in 40 states with only one option — EnergySolutions.
The lawsuit, lodged in U.S. District Court for Delaware against both companies, asserts that eliminating competition between the two would have wide-ranging impacts throughout the United States at a time when utilities are poised to bid out billions of dollars worth of nuclear reactor decommissioning projects.
"Over the next five years, the decommissioning of commercial nuclear reactors in the United States is expected to generate $10 (billion) to $12 billion in revenue," the suit said. The justice department identified 15 commercial nuclear sites in various stages of decommissioning, with 14 of those sites in states it alleges would be impacted by the proposed acquisition.
In the arena of depleted uranium, Texas regulators already gave permission to Waste Control Specialists to take the radioactive waste, which is a byproduct of uranium that is enriched in the nuclear fuel process.
Utah has yet to act on specifics of a technical analysis performed by EnergySolutions on how the company would dispose of depleted uranium at its Clive facility 80 miles west of Salt Lake City — leaving its future here much less certain.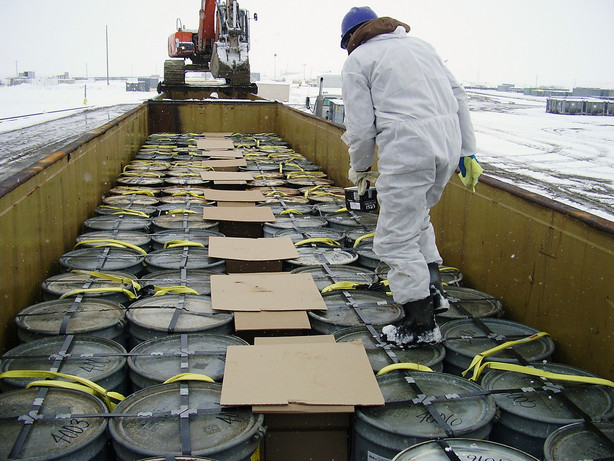 Critics of disposing depleted uranium in Utah say if EnergySolutions is able to buy Waste Control Specialists for $367 million, it would make more business sense to ship the material to Texas, where regulatory approval already exists.
On the flip side, if a federal judge nixes the acquisition, EnergySolutions will pursue disposal of depleted uranium, with national stockpiles managed by the U.S. Department of Energy estimated to be 700,000 metric tons.
"This news certainly makes it more likely that we will get the depleted uranium," said Matt Pacenza, executive director of HEAL Utah, a local organization opposed to nuclear waste storage in Utah.
"It certainly is disappointing."
Both EnergySolutions and Waste Control Specialists said they will fight the lawsuit, which they say erroneously asserts the acquisition would leave only one option for 40 states.
"In fact, there are numerous disposal sites for (low-level radioactive waste) operated by competitors of the two companies," the companies said in a prepared statement, stressing that utilities will actually save costs on nuclear decommissioning because the companies' management and administrative costs will be reduced.


Photos
Related Stories
0 Pending Comments
Sorry, we are not accepting new comments on this story, but if you have more to contribute please email
newstip@ksl.com
Showing of 16 comments
Sorry, we are not accepting new comments on this story, but if you have more to contribute please email
newstip@ksl.com