Samantha Hayes Reporting
Former Utah Governor Michael Leavitt is under fire for his use of a government jet in his current role as Secretary of Health and Human Services. Thursday night in Salt Lake City he made his first public comments on the controversy.
Michael Leavitt/Secretary of Health and Human Services: "I'm just working hard to do my job."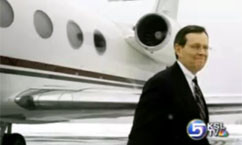 The Secretary is accused of flying on a jet reserved for the Centers for Disease Control to use in emergencies. But Leavitt says Congress signed off for him to use it, and the jet was the only efficient way for him to get around the country as Health and Human Services director.
Secretary Leavitt was attending an event honoring his father-- the Father of the Year Awards Dinner benefiting the American Diabetes Association. Before he went inside, he spoke to Eyewitness News and The Deseret Morning News about his controversial flight time.
Family brought Michael Leavitt to town this time. A Father's Day celebration, and the chance to visit with grandchildren. And his trip may have gone unnoticed, but Secretary Leavitt's use of a leased jet is catching national attention.
He defended his position to Eyewitness News.
Mike Leavitt/ Secretary of Health and Human Services: "That's an important tool of it. The good news is we've had 39 million people sign up for Medicare and the country's better off in terms of avian flu. That's the important thing, and what the president has asked me to do."
The Secretary is a frequent flier. You would expect that from the man in charge of implementing Medicare drug benefits and preparing for a possible pandemic.
That's what he was doing on a March visit to Utah and dozens of other cities since January.
Mike Leavitt: "The measure of our success is, are we finding them and fixing them and doing that rapidly? Yes we are. The system gets better every day."
Congress is taking a close look at how he flew to all those cities on a leased jet reportedly reserved for the CDC to use in emergencies. Democrats say Leavitt's trips did not qualify as emergencies and believe the 740 thousand dollar cost to taxpayers was wasteful.
Mike Leavitt: "No, no I'm just working hard to do my job."
In response to recent articles, Leavitt says he tried to use commercial jets whenever possible, but it was too difficult to manage the two programs that way every time he needed to travel.