Team Coverage
In some places last night's storm was so bad that students couldn't make it home from school. They were actually forced to stay overnight in their classrooms.
At Ridgeline Elementary School in Highland the school is actually closed for the day because of the nasty road conditions. The students who spent the night there last night have all gone home now, except a few who stayed behind to help clean up the mess.
The morning after the storm the school was filled with hungry children, tired parents and drained teachers. One hundred people spent the night in classrooms reading, watching movies and snacking on popcorn.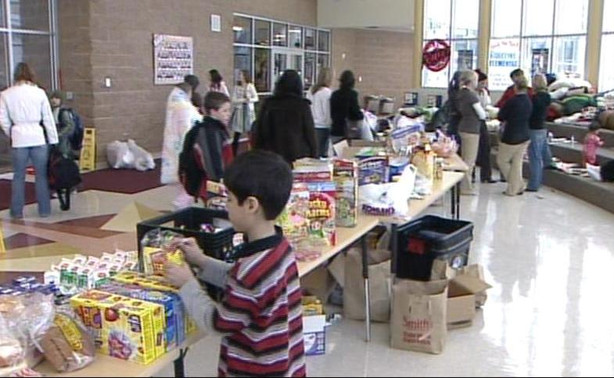 For the children it was more of an adventure than anything else. "In fact, we had some parents that came and got their kids and they were sad. They wanted to spend the night here. So, they wanted to party," explained acting principal Salonna Thomas.
"You want to feel for the kids, you want to help them, but they're camping. They're having a great time. This is an experience of a lifetime for them," said Rob Clauson, parent of one of the students.
Parents brought in blankets and pillows, a neighborhood grocery store provided food, and a local dentist brought in toothbrushes and toothpaste.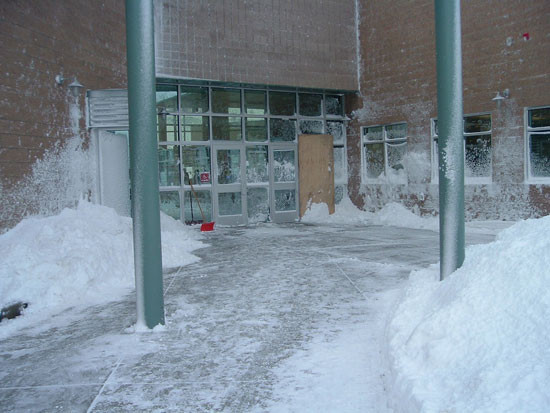 Ridgeline, of course, isn't the only school closed today. Several schools across the Wasatch Front either had a delayed start today or closed completely.
Jordan School District delayed the start time at all of its 90 schools. That impacted about 80,000 students. Those who don't ride a bus were allowed to arrive early, though. Spokeswoman Melinda Coulter said, "We hope they're not just hanging out. We hope they're busy doing their homework. We just feel [a late start for schools] the best solution all the way around."
A list of closed schools and schools with a delayed start can be seen at the bottom of this article.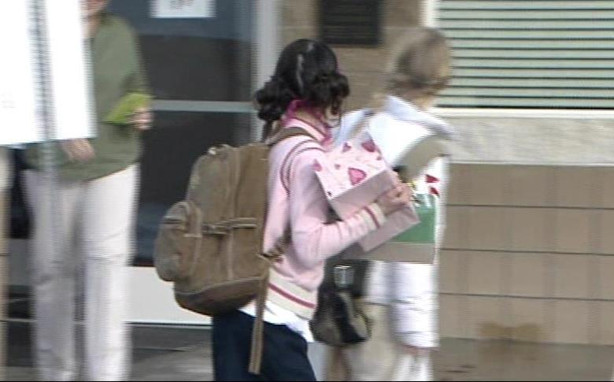 Students at Lincoln Academy in Pleasant Grove just wanted to continue with their Valentine's Day celebrations.
"It's probably going to feel weird, but we're still going to, like, have Valentine's parties and stuff and probably going to be like the same school day and everything," fifth-grader Shelby Bishop said.
Ninth-grader Kelsee Coonbs said, "I think that some of them will show up, but I think a majority of them are going to say, 'It's half day. I'm going to stay home.'"
At Ridgeline elementary, students who spent more than 24 hours at school will have to return for another day starting tomorrow.
Closed
Tooele School District
Ridgeline Elementary
Cedar Valley
U-CAN Learn Center
Ranches Academy
Delayed
2-hour delay
Jordan School District schools
American Heritage of South Jordan
Riley Elementary
Mountain View Elementary
Glendale Middle School
10 a.m. start
Renaissance Academy
Mountainville Academy
Lincoln Academy
Salt Lake Lutheran High School
East Hollywood High in West Valley
Lakeview Academy starts at 10:05 a.m.
11 a.m. start
Harvest Elementary
Pony Express Elementary
Saratoga Shores Elementary
Fox Hollow Elementary
Dual Immersion Academy in Glendale
Channing Hall in Draper
Maeser Prep School will start at 11:30.
No bus services west of the Jordan River for Alpine School District middle and high schools.
Willow Creek and Lehi High School will be in session but won't have bus service.
Granite District schools are open, but will be lenient with late arrivals due to snow. District spokesman Randy Riplinger says buses are running on time, but the district wants to focus on driving safely and not trying to rush through the snow.
Murray schools are open, but there is a problem with the phone system. Parents calling have probably been getting a busy signal.
Related Links