Scott Haws and Paul Nelson reporting
President Hinckley spent a lot of his time with the youth of The Church of Jesus Christ of Latter-day Saints reminding them about their potential, calling them a royal generation.
To any member of the Church who is in his or her early 20s, or younger, President Hinckley wasn't just the prophet, he was their prophet. With today's youth able to communicate faster than any generation before them, it didn't take long for news to spread, and for these faithful young saints to find a way to show their love for the man they had come to love and admire.
"Probably five minutes after it happened, after everyone heard about it, you just got text after text after text 'cause everyone just loves their prophet, and they want to make sure everyone knows what happened," Davis High student Kristen Beck said.
There was a Sunday night surge in cell phone traffic as text messages spread the news that President Hinckley had died. Along with the news, faithful youth urged friends to dress up or wear yellow at school on Monday.
"My favorite one was someone who said, 'President Hinckley got to rejoin his wife in heaven yesterday, please wear yellow to show your gratitude for him,'" Davis High student Peter Hayward said.
The youth of the Church responded. Splashes of yellow dotted the halls in schools around Utah, Nevada, Idaho, even Arizona and California.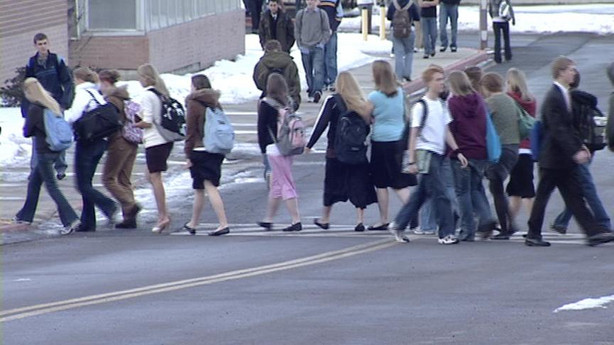 "It was mostly out of the youth, how much they loved President Hinckley. He was our prophet, you know, we grew up with him," Davis High student Nathan Goodson said.
"He's our childhood prophet, ever since we've been young, and I, personally, when I found out about it I decided I wanted to do it because I have such a love for him," Davis High student Shay Taylor said.
Davis High student Peter Hayward said, "He was the prophet that I learned, 'We Thank Thee Oh God for a Prophet' in primary to. He's always been that kind of icon that everyone my age has looked up to."
Back in 2005 some 45,000 young saints let their prophet know just how much they looked up to him during a "Day of Celebration" at Rice-Eccles Stadium. A leader who they say left a legacy of love. "He's the only one I remember, and I'll just always remember the love that I felt whenever I saw him on TV, and just through his smile and all the love that he had," Davis high student Agelina Hadley said.
When you talk to these students, you get the sense that even though he's gone, President Hinckley will always be their prophet.
Eyewitness News did talk to AT&T and Verizon, and indeed they saw a significant spike in cell phone data transmissions last night starting at around 8 p.m. It's how this generation communicates, and it came together like never before.