OGDEN — A couple dozen people came together Thursday night, to prepare a tribute for Utah Highway Patrol Trooper Aaron Beesley, who was killed in the line of duty Saturday.
The 13-year UHP veteran died after helping to save two hikers stranded on Mount Olympus. The pilot airlifted them to safety before returning for Beesley. But when the helicopter returned, the trooper was gone. He apparently lost his footing and fell approximately 60 feet to his death.
"Nothing was about Aaron; everything was about what he could do to help," said UHP Sgt. Travis Trotta, a friend and colleague of Beesley's.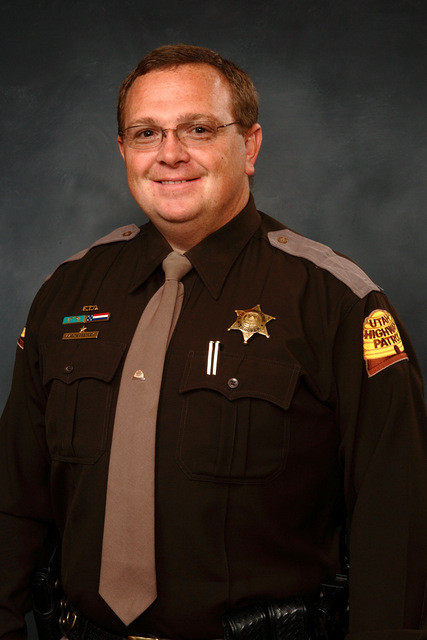 Trotta was stunned at the news of his friend's death. "Wow. This reality is hitting you that somebody you knew so close had given his life in the ultimate call," he said.
Janet Thorsted, with the Northern Utah Community Support Group, organized volunteers to prepare ribbons Thursday night in Ogden.
"At the viewing and the funeral we will have baskets of them where people can take them," she explained.
A blue ribbon is a symbol for remembrance of fallen police officers. Thorsted's group has prepared small blue ribbons for people to wear and large blue ribbons to line the 17- mile processional route.
They group united for a similar tribute to Ogden police officer Jared Francom, who was shot and killed in January. They do it because they want to "pay it forward" for the officers who served their community.
"We just sit here and have a nice, easy life while these guys are risking their lives. It's the very least we can do to try to pay back for everything they do every day," said Kurt Spencer, with the Fallen Heroes Scholarship Foundation.
Trotta said the officers recognize the support and feel the generous spirit of the community. "We know that we have somebody that can help, and that our families will be taken care of if something was to happen," he said.
Beesley's funeral will be held Saturday, July 7, at 11 a.m. at Northridge High School in Layton. A public viewing will be held from 5 p.m. to 8 p.m. at the same location the night before.
Photos
Related Links
Related Stories
0 Pending Comments
Sorry, we are not accepting new comments on this story, but if you have more to contribute please email
newstip@ksl.com
Showing of 3 comments
Sorry, we are not accepting new comments on this story, but if you have more to contribute please email
newstip@ksl.com