SALT LAKE CITY -- When a local barber shop was issued a cease and desist for too-closely resembling a nationwide chain, the surrounding community stepped up to help one of their own.
Jed's Barber shop, located at 212 S. 700 E., had been open for three months when in June of this year the owners were served with a cease and desist letter by the attorneys of Floyd's 99 Barber shop, a national chain headquartered in Denver.
Floyd's sent the cease and desist because of an alleged trade dress infringement -- saying the company's interior decor, which featured walls of music albums and graffiti stencils of classic artists, was too similar to Floyd's shops.
"I had seen Floyd's shops before, but my inspiration came from a couple salons I saw in Rome," Owner Jed Beal said. "They displayed old American albums, and it made me homesick -- it brought back nostalgia."
"Nothing is more nostalgic than an old American barber shop."
In designing his own shop, Beal wanted to "marry an old fashioned barber shop with modernity." Clients can peruse era magazines or watch classic cartoons while sipping huckleberry soda or ginger ale. Once in the barber's chair, they are treated to an old-fashioned shoulder massage, and men are given a hot-towel neck shave.
"We weren't going for Floyd's rock 'n' roll theme," Beal said. "We wanted this to be a place where a grandfather with his grandson could come in, have a soda pop and have something to talk about. Our goal was Americana, not rock 'n' roll."
---
We weren't going for Floyd's rock 'n' roll theme. We wanted this to be a place where a grandfather with his grandson could come in, have a soda pop and have something to talk about. Our goal was Americana, not rock 'n' roll.
–Jed Beal
---
The idea has been a success in a community nostalgic for simpler times. Beal's favorite experience was an emotional encounter with a 95-year-old man who was his first customer.
"He almost started crying because it was the first time he had had the old shoulder massagers that we use, the first time he had had his neck shaved in a long time in a barber shop," Beal said. "When he passed away, his family came into the shop to say 'thank you' because he had talked about how great it was to come in and get a service done. It was a highlight for him."
The man's tip, a $1 bill as reminiscent of the past as the 1949 magazine he read in the waiting area, sits above Beal's computer to remind him of why he opened his shop.
"The nostalgic magazines, the old soda pops and stuff -- some people say it's for marketing or to be 'nichey,'" he said. "For us, it's about recreating the old school barber shop and giving people a little piece of Americana they can't get anymore."
To Beal, Americana means giving back to the local community and to the world at large.
Everything in the shop was created by local companies. A small art gallery on one wall allows local artists to gain exposure, and local bands play free concerts on the last Saturday of every month.
Movember Benefit Party
November 26, 8-10 p.m.
Jed's Barber Shop
212 S. 700 E., Salt Lake City

The shop wants to involve the community in making a difference -- this month, Beal chose to sell mustaches to promote the Movember movement to fight prostate cancer.
It comes naturally to Beal, but most people do not know just how local and change-oriented the shop is because he believes in making a difference in his community by leading by example.
"St. Francis of Assisi said, 'Go and preach the good news -- if necessary, use words,'" he said. "That's what we believe as a business. We want to be the change we want to see, by being green, being local, and giving local artists and musicians a place to go."
It was these local artists who responded when Beal needed some help of his own.
Because he did not have the funds to take Floyd's to court, he settled with the company: The shop could retain certain basic design elements, but could have no music- related decor. Being a first-year business owner, Beal could not afford to redecorate his entire shop.
Instead, he reached out to his community for help.
Beal contacted artists who had done shows in his shop and asked for donations of black and white photographs he could use to decorate his now starkly white walls. One artist, Blake Palmer, responded by recruiting contributors and redecorating the shop one night after closing.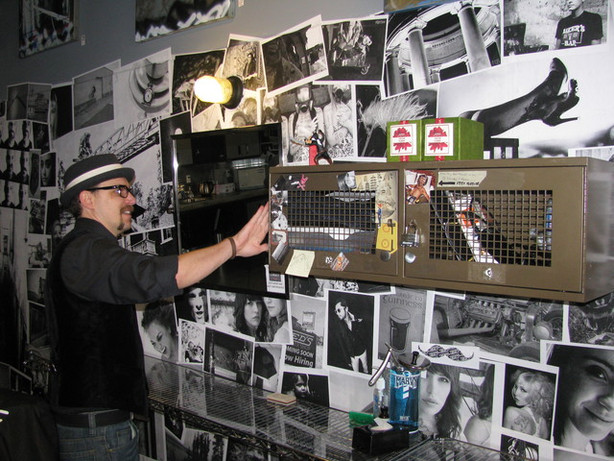 "I wasn't even here," Beal said. "They completely caked our walls with images that cannot be contested by a franchise," he said. "Every picture was taken by a local photographer; it really put more of our identity back into the space."
A picture of his head barber as a child, getting a haircut from his grandfather, adorns the wall behind the very barber chair seen in the decades-old photo. Salt Lake City firefighters can be seen in one corner, climbing a ladder to fight a fire. Every photo reflects the community that donated it.
"We are local first, and now it really shows."
Beal said clients have responded positively to the change, excited to see local artists' work on the walls of what many refer to as "their shop."
"This shop changes more than the weather, but there is inspiration behind every change," said an elderly man, known in the shop simply as 'Mac,' who has been Beal's client since he opened. "And I'll tell you, here they treat you as if you are the only person who matters in the entire world. Like you're a king."
"Jed is wonderful; this is wonderful," he added, pointing to a picture on the wall of himself learning to ski in Germany's Black Forest at age 19.
"He's our community," Beal replied. "That's why he's on our walls."
Photos
Related Links
0 Pending Comments
Sorry, we are not accepting new comments on this story, but if you have more to contribute please email
newstip@ksl.com
Showing of 8 comments
Sorry, we are not accepting new comments on this story, but if you have more to contribute please email
newstip@ksl.com