SALT LAKE CITY -- Kennecott Utah Copper launched a series of community open houses Wednesday to promote public support of its Cornerstone Project, which would push the southern boundaries of and deepen the open-pit Bingham Canyon Mine.
Kennecott's critics are also out in force, concerned a larger mine would increase environmental damage and present land-use concerns.
Dr. Brian Moench, president and co-founder of Utah Physicians for a Healthy Environment, says current medical research shows a person's aging is accelerated by seven years over the course of their lifetime when exposed to air pollution levels that equate to Kennecott's emissions.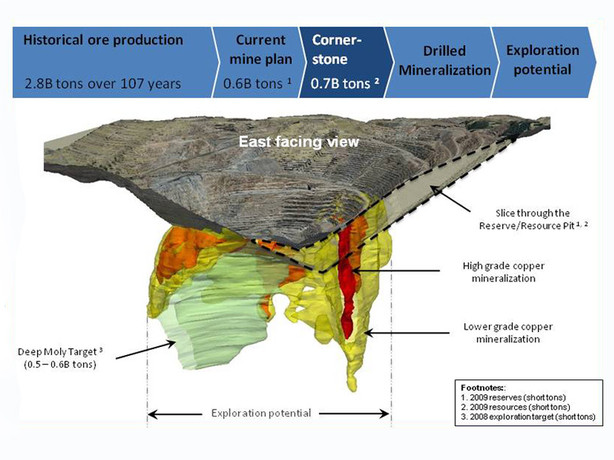 "Do we want Kennecott to shut down? We've never asked for that," Moench said. "We'd like Kennecott to acknowledge that we can't allow our air quality to get worse. We'd like it to get better."
Kennecott Utah Copper President and CEO Kelly Sanders said the company has invited criticism. "We're trying to be very transparent, very open" and met with environmental groups before launching the series of community meetings, he said.
Kennecott Utah Copper says its Bingham Canyon Mine produces nearly 25 percent of America's supply of refined copper and employs 2,400 Utahns. The proposed expansion would extend the southern wall of the mine 1,000 feet and extend the depth of the open-pit operations by 300 feet to reach deposits of high-quality copper ore and deposits of molybdenum, used in high-strength steel alloys. The company calls the project a "phase" toward extending the mining operation's life decades into the future.
Kennecott, wholly owned by London-based Rio Tinto since 1989, scaled back when copper prices plummeted to around 50 cents per pound. Copper currently sells for about $4.40 per pound, "and it looks like there will be a supply imbalance for some time" that keeps the price high, Sanders said Wednesday in meeting with the Deseret News editorial board.
The air quality issue is the hottest of the hot buttons as Kennecott pursues modifications to scores of regulatory permits needed to initiate the Cornerstone Project. Kennecott has acknowledged the air quality concerns by recently launching a program to limit the amount of times its trucks are allowed to idle and announcing new capacity to generate some of the operation's electricity using natural gas instead of coal.
Kennecott Cornerstone Project
Community open house schedule
Wednesday, Jan. 19, 6-8 p.m., Webster Community Center, 8952 W. 2700 South, Magna
Tuesday, Jan. 25, 6-8 p.m., Hunter High School, 4200 South and 5600 West, West Valley City
Thursday, Jan. 27, 6-8 p.m., Sandy Senior Center, 9310 S. 1300 East, Sandy
Wed. Feb. 2, 6-8 p.m., South Jordan Community Center, 10778 S. Redwood, South Jordan
Thursday, Feb. 3, 6-8 p.m., Copper Canyon Elementary, 8917 S. Copperwood Drive, West Jordan
Tuesday, Feb. 8, Bingham Canyon Lions Club, 320 Southwest Hillcrest Street, Bingham Canyon
Wednesday, Feb. 9, 6-8 p.m., Herriman City Hall, 13011 S. Pioneer Street, Herriman
Tuesday, Feb. 15, 6-8 p.m., Salt Lake County Government Center, north building, 2001 S. State, Salt Lake City
Wednesday, Feb. 16, Rowland Hall, 720 S. Guardsman Way, Salt Lake City
Thursday, Feb. 17, 6-8 p.m., Webster Community Center, 8952 W. 2700 South, Magna
Moench said air pollution is to blame for 1,000 to 2,000 premature deaths in Salt Lake County each year, according to a formula used by the American Heart Association. He said medical research also more conclusively links air pollution to DNA-level reproductive damage and prenatal stress that can lead to an early onset of neuro-degenerative diseases like Parkinson's and Alzheimer's.
In simplified terms, Kennecott contributes one third of the county's airborne pollutants, Moench said. "This is a much broader health issue than we understood even 10 years ago."
He adds that public policy regulating industries like Kennecott are typically years if not decades behind current medical research. "It's high time we make the evolution of our public policy match the evolution of our medical research," he said.
Sanders said the mine extension plan would result in a small net increase in ozone emissions but a decrease of 1,000 tons per year of PM10 and 900 tons per year of PM2.5 particulates, which tie directly to the pollutants Moench references.
The numbers need careful scrutiny, says Terry Marasco, coordinator of the Utah Clean Air Alliance.
The federal Environmental Protection Agency rates regions on the volume of airborne pollutants each area, or airshed, can tolerate. "The airshed is full," Marasco said. "So at a high level, it appears that auto emissions are declining while industrial emissions are rising. So while car drivers are doing their part, industry is backfilling the airshed which tends to keep us in place. This certainly needs to be studied closely."
Air quality issues extend beyond Kennecott, but the mining giant is the biggest industrial polluter in the mix, Marasco said, operating what he claims is the largest mining operation adjacent to a major metropolitan population.
"We've had days this year where we've had the worst air quality in the nation," Marasco said. "Why would new businesses come here if there is this consistent problem, and there are limits on the airshed?"
Promotional organizations like the Economic Development Corporation of Utah, a public/private partnership that works with government and industry to attract new industries to the state, does not talk about air quality as it promotes Utah's quality of life on its website.
Both sides of the argument acknowledge the difficulty of getting bottom-line data on air pollution. Industry, not state regulators, collect the raw data, Moench said.
"This is still an honor system." Kennecott's Sanders says regulatory limits are based on worst-case models, not day-to-day data. "The actual pollutants are less."
-----
Story written by Steve Fidel, with contributions from John Hollenhorst.
Related Links
Related Stories
0 Pending Comments
Sorry, we are not accepting new comments on this story, but if you have more to contribute please email
newstip@ksl.com
Showing of 0 comments