WEST JORDAN — A World War II veteran who was awarded the Bronze Star for heroism during the Battle of the Bulge had the medal officially pinned on him for the first time during a ceremony on Friday.
Richard J. Johnson, now 86, was a machine gunner when his unit was pinned down by German artillery fire in a creek bed near Rechrival, Belgium on Jan. 10, 1945.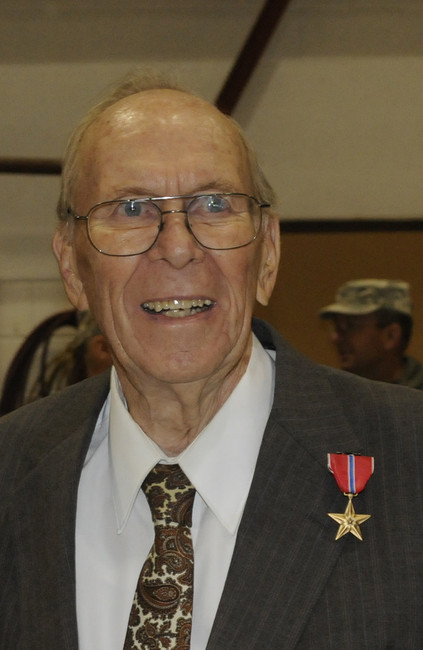 A rifleman in front of him was hit by enemy fire. "He was screaming and bleeding with one leg just hanging there," Johnson recalls. "I just had all of our men stand up and fire their carbines into the direction the tracers were coming from…. Then I just jumped up and dragged him out, back into the creek bed so we could get a medic to him," he told members of the Utah Army National Guard's 2-211th Aviation Battalion assembled for the ceremony.
"Any one of you would have done it," he told the soldiers. Johnson was still on active duty after the war, stationed in Virginia in 1951, when a box came in the mail. Inside was a Bronze Star medal and a citation describing the event six years earlier. He didn't know the medal was coming, and to this day does not know who nominated him for the medal.
Almost 60 more years would pass before 5-year-old Brayden Tannahill would tell his dad that their across-the-street neighbor had a star. "What kind of star?" the dad asked. Jeremy Tannahill is a Blackhawk helicopter pilot and maintenance company commander in the 2-211th. He learned the rest of the story from Johnson then asked Lt. Col. Pete Adams, an officer in his command, if the 2-211th could host an official pinning ceremony.
Utah Army National Guard Brig. Gen Michael Liechty pinned the medal as Johnson's wife, Needra, stood at his side. More than 100 soldiers stood in formation during the ceremony.
Utah National Guard Adjutant General Brian Tarbet officiated. "I think your greatest generation meets our greatest generation. There are fellow Bronze Star recipients in this formation tonight. And I have every confidence they are the legitimate heirs of the legacy you left us."
The connection between generations is "why us younger guys do what we do, because we can grow up and be like that," Capt. Tannahill said. "They fought for their country, then they came home and live their life with a Bronze Star in their closet."
E-mail: sfidel@desnews.com