ST. GEORGE -- While the teens who were struck by lightning Monday are still in intensive care, their families and doctors are praising the first responders: the teachers and administrators who performed CPR on the boys.
The two were standing next to a tree at Snow Canyon High School Tuesday afternoon when the weather suddenly changed and they were struck by lightning.
Related
Another school day was coming to an end, and history teacher Ron Hansen had his hand on the door to leave when a deafening noise shook the school.
"It sounded like standing right next to a 155 Howitzer as it goes off," he said. "It was a big boom."
Some girls came running toward him, saying two boys had just been struck by lightning. At first, Hansen thought it was a prank. But when he rounded the corner, he saw it was no joke.
"At that moment, quite honestly, I thought, 'These boys are dead. They're just dead,'" he said, choking back tears.
Best friends Dane Zdunich, 16, and Alex Lambson, 17, were lying flat on their backs. Alex's shirt was smoldering.
Hansen rushed to their sides and checked for a pulse. When he found a faint heartbeat on Dane, he started performing CPR on Alex, who looked like the worse of the two.
"The top part of his shirt was gone, it was still smoldering around the edges," Hansen said. "I could see the third-degree burn across his chest."
Seconds later, other teachers, administrators and students started to help, performing CPR on Dane.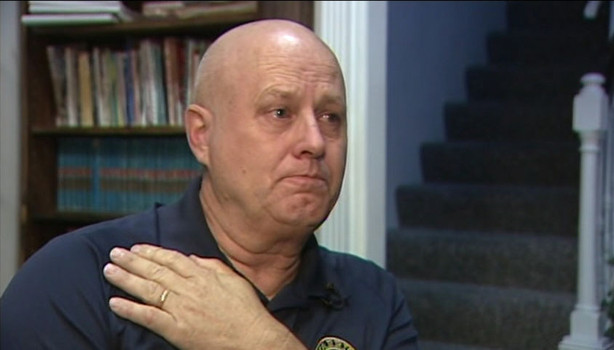 But in the pouring rain, Hansen feared they were vulnerable for another lightning strike. The group carried the boys into the school's band room, where they continued CPR until emergency medical technicians arrived and took over.
"That's when it hit me, this could be fatal," Hansen said.
Ashley Tiller was outside the school getting ready to take her neighbors home when she saw the lightning strike both boys. She rushed to their aid and helped carry them inside the school, where peers administered CPR until paramedics arrived.
"They weren't breathing, they weren't breathing at all," Tiller said. "They had a weak pulse, but they weren't conscious or anything."
The boys were taken by medical helicopter to a hospital in Las Vegas, where they remain in critical condition.
Alex's parents say without the quick thinking of Hansen and the others, the boys would not be alive.
"They rushed to help so quickly and started CPR so quickly, and because of that they (the boys) are alive," said his stepfather David Talley. "I don't know who those faculty members are, but I am grateful to them."
Alex's mother Kaleen Talley echoes those sentiments.
"They were with him within 20 seconds. They carried both the boys back into the building and performed CPR until police arrived," she said. "We don't know who they were, who the teachers were. But they saved their lives. Both of them."
That's what was on Hansen's mind at the time: "Save these boys' lives, just save their lives," he recalled thinking. "They're in my thoughts, they're in my prayers."
Lightning has forever impacted these two teenagers, their families, their friends and the teachers and administrators who fought to keep them alive.
Both boys are members of Snow Canyon's debate team. Their teammates have a debate this weekend against their rivals, Dixie, and they're dedicating it to Dane and Alex.
They've also organized a fund* at Zions bank, to help with their medical expenses.
E-mail: jstagg@ksl.com
*KSL.com has not verified the accuracy of the information provided with respect to the account nor does ksl.com assure that the monies deposited to the account will be applied for the benefit of the persons named as beneficiaries. If you are considering a deposit to the account you should consult your own advisers and otherwise proceed at your own risk.
Related Stories