MURRAY -- Some of the most frightening words anyone can hear are "you have cancer." About 1.4 million new cases of cancer are diagnosed in this country each year.
---
You're always holding your breath, and you're always hoping, keeping your fingers crossed, that the chemo's working, you know, helping your body to fight this disease, cancer.
–Sarah Hays
---
Two months ago, 29-year-old Sarah Hays, of Sugar House, was diagnosed with the disease. Friday, she went to the hospital to see if her chemotherapy is working, and she granted KSL News unusual access to accompany her.
Hays arrived at Intermountain Medical Center early in the morning. Two months since being diagnosed with cancer, she came to the hospital for an updated diagnosis.
"It's scary, and it's emotional," Hays said. "But I'm fighting it, and I'm being as optimistic as I possibly can at this point."
"I have an unknown primary," she continued, "and what that means is they don't know where [the cancer] started in my body -- so they don't know if it started in my ovaries, or my kidneys, or liver -- so what they've called it is stage four terminal cancer."
Ironically, Hays works at this same hospital, Intermountain Medical Center, as a sonographer, helping to detect cancer in others.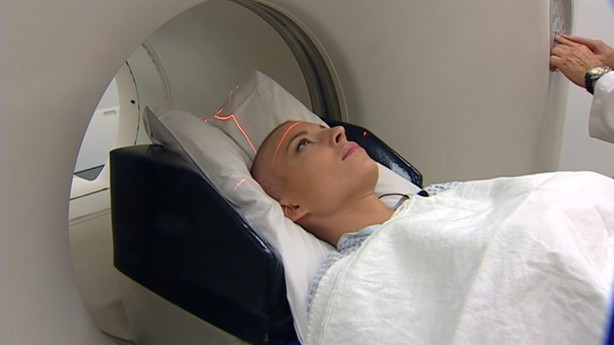 "It's so different. I mean, the whole time I've been on the clinical side helping patients, and now I'm on the patient side of all of this," Hays said. "It's different being a patient. It's humbling."
During the exam, Hays was given an injection.
"It is a way for us to see fast-growing tumors by injecting a radioactive tracer that's been tagged to sugar," explained John Russon, nuclear medical technologist at Intermountain Medical Center.
After nearly 45 minutes, with the glucose now throughout her body, she was ready for her PET-CT scan.
"[I] definitely said a prayer and exercised my faith in my Savior, and hoped for the best," Hays said.
"By doing this scan, the sugar will actually be pulled up into the tumor and other parts of the body, and we'll be able to see exactly where it goes. This is the best the world has to see this kind of stuff," Russon explained.
Near the end of Hays' scan, doctors saw something suspicious.
"After he'd finished, he said, 'We need to get your leg, your left leg,' inquiring that there was a mass there as well. And I thought, 'Oh, that's probably not good news,'" Hays said.
It's hard news for the Oregon native, who moved to Utah 11 years ago and became hooked on running. After numerous half marathons, as well as 3 and a half-hour time at the St. George Marathon, Sarah is fighting for her life.
"Sweatin' for Sarah"
5K fundraiser
Saturday Aug. 28

7 a.m.
Starting and ending at Highland High school in Sugar House

For more information
click here.
"You're always holding your breath, and you're always hoping, keeping your fingers crossed, that the chemo's working, you know, helping your body to fight this disease, cancer," Hays said.
Later, Hays met with the radiologist for results.
"He did mention my activity levels had gone down, which is a good thing. At this point he hasn't seen any new masses, but we'll have to wait and see," she said. "It's just gonna be another stepping stone. It's going to be another challenge, but hopefully we can get through."
Hays told KSL late Friday afternoon she's learned the tumors on her liver have decreased in size, while several others have actually grown. She'll meet with her doctor next for treatment options.
On Aug. 28, Hays family and friends will put on a 5K called "Sweatin' for Sarah" to help her with her huge medical costs. CLICK HERE for information on how you can help.
E-mail: kaiken@ksl.com
Photos
Related Links