OREM -- Work has moved quickly on a project to rebuild an Orem family's home.
Fire destroyed the home right before Christmas, and just weeks earlier, the family lost a child to the flu.
After a devastating year, the Kuester family was being given a new start with a home makeover. The original home was demolished Monday, and already the new house is taking shape.
In just three-and-a-half days, the Kuester home has gone from a pile of rubble to something that already looks like a home. Not only are the walls and roof on, but workers are inside hanging drywall.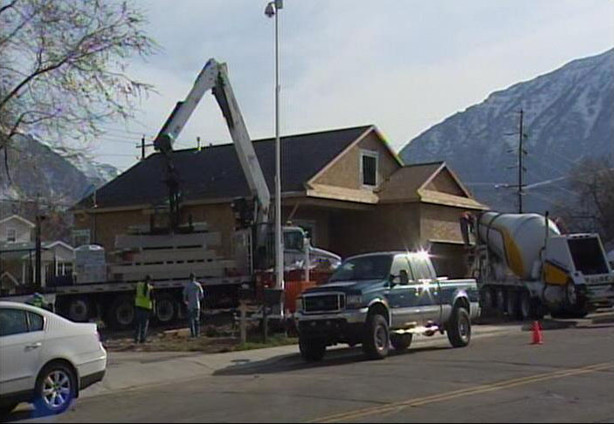 The Heart 2 Home Foundation, which is spearheading this community project, recruited some muscle Thursday. Four players on the BYU football team were there to help hang the drywall. They are from both the offensive and defense line and said they welcome a break from studying for finals to help out someone in need, as they work alongside the professionals.
"I don't think they need us, these guys are really good and fast," said Jason Speredon, an offensive lineman. "Hopefully we can help get the roof on."
But Oscar Lemus with Nutek Drywall appreciates the help. "They are pretty strong, they can get the sheets up pretty quick, they can definitely push them up on the ceiling."
Heart 2 Home chose the Rick and Jennifer Kuester family after two tragedies late last year. First they lost their 9-year-old daughter Samantha after she suffered complications related to the H1N1 virus. Then an overloaded circuit resulted in their home catching fire just before Christmas.
Now, work is moving fast on the house. In fact, the Kuester home is scheduled to be finished in just one week, when the family will get to move in.
E-mail: spenrod@ksl.com
Photos
Related Links
Related Stories