SALT LAKE CITY — The new ski film, "Pretty Faces" has everything you'd expect from a ski movie including beautiful backcountry skiing, shots of skiers shredding mountains you'd never dare attempt, cringe-worthy wrecks and a glimpse into the lifestyle of a ski bum. Yet, what sets this film apart from all the other ski movies is that it features only women skiers and has a strong message to young girls.
"Pretty Faces," is an all-female ski film produced by Professional Big Mountain skier, Lynsey Dyer, and includes world-renowned athletes including Ingrid Backstrom, a pro skier who has starred in 13 ski films, and Elyse Saugstad, Powder Magazine's 2013 female skier of the year.
The documentary also includes several local skiers including Salt Lake City pro skier, Rachael Burks, Snowbird-native Angel Colllinson, Salt Lake City-native Suz Graham and Kristen Ulmer, who currently runs ski camps at Alta.
The movie zooms in on the skiers' tours through Jackson Hole, Retallack, Eagle Pass, Revelstoke, Whistler, Baker, areas on the East Coast and also features Utah's powder at the Brighton Resort.
The movie focuses on skiing in its grandest form. These women perform incredible feats by shredding down steep, mountainsides and landing one backflip after the next. You'll get a backstage pass as you see how pro skiers navigate their lives: They live and die by storms and snow.
One of the film's main highlights is when Salt Lake City pro skier, Rachael Burks takes a big run in Alaska. As she makes her way down the mountain, she slows her turns which causes her to be swept up in an avalanche.
"The number one rule in Alaska is, you don't slow down," Burks said. "It was a lesson I needed to learn and I learned it."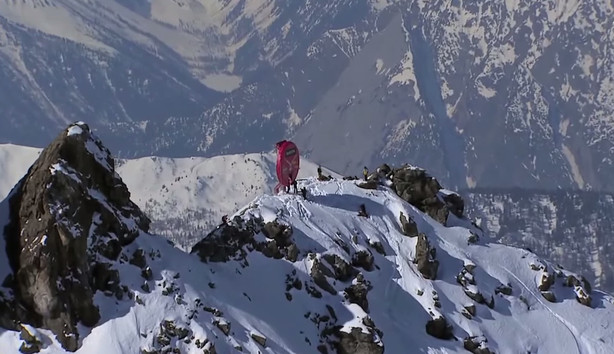 Burks, shaken up by her avalanche scare, let's Dyer film for the next couple of days. A couple days later, Burks courageously returns to the top of the slope and stands at the top of what she describes as the most perfect line of her life. She skis it flawlessly and when she makes it to the bottom she's overwhelmed with both joy and relief.
However, Burks still said she favors Utah as her preferred skiing location.
"Cottonwood Canyons of Utah. Because deep, deep, deep powder, that's why," she said.
The movie includes interviews and comments from female skiers and climbers about what they have learned from the mountains, what fires them up, what keeps them going and what they'd like women of all ages to know. These athletes are trailblazers not only in their sport, but also as role models for their gender.
The documentary explores how women represent 40 percent of the ski population, 30 percent of adventure film viewership and only 14 percent of ski films have a female presence. With these numbers in mind, Dyer set out to make an all female ski film.
"I'm not trying to do anything revolutionary here," Dyer said. "I'm just trying to give women the same spotlight men have had."
Dyer said she and her fellow female skiers had some worthy lines during the filming of the big time production, "Warren Miller," but by the time the movie had been edited they were sorely underrepresented. It was then that Dyer started a Kickstarter campaign that would raise enough funds to go ahead with her dream project.
Dyer's efforts didn't stop with "Pretty Faces." She is also the cofounder of the organization, SheJumps, based in Salt Lake City. SheJumps is a program to get young girls in the outdoors.
The film is currently on tour and has had two showings in Utah. At the Park City premiere, many of the girls dressed in unicorn costumes representing the iconic SheJumps mascot, a Girafficorn. Click here for more information about the film.
---
Lindy earned her degree in Journalism from Utah State University and has lived in Cache Valley ever since. She is an avid skier and an outdoor enthusiast. You can find more of her work at www.geargenius.com
Related Links
Related Stories
0 Pending Comments
Sorry, we are not accepting new comments on this story, but if you have more to contribute please email
newstip@ksl.com
Showing of 1 comments
Sorry, we are not accepting new comments on this story, but if you have more to contribute please email
newstip@ksl.com