OGDEN — In an effort to help her students cope with difficult experiences, an English teacher at Two Rivers High School had them write their life stories and now a book of the project is going to be published.
Cassie Cox has taught at the alternative high school for 12 years and she said her students "come to her with so many stories" and often in difficult situations. Cox said she heard about author Ingrid Ricks, who started a writing program and helped Seattle students write about their lives and publish a book of the compilations.
"When she came to my classroom and talked to me about her book, to talk about the work she had done in Seattle, the two of us knew immediately this was something that needed to happen at my school," Cox said.
Cox said she and Ricks began working on the project in January 2014. She gave each of her students the opportunity to participate in the writing project, but only 17 decided to write their stories as a part of the book.
"Everyone ends up in my high school for a reason," she said. "I just knew that writing can be very therapeutic. … We are so proud of our students. Their stories are amazing. They are heartbreaking. They're hopeful. Some of them deal with death. We have a couple that deal with friends who have committed suicide. Some deal with bullying. Just issues that teens and schools everywhere are facing — my students just decided to write about it."
The students involved in the project were all between 16 and 18 years old and come from various situations, Cox said. Cox said several of the students told her they had kept their experiences bottled up and never talked about them before the project. Marianne Carter, a junior at Two Rivers High School, said writing about her life was hard but also a healing experience.
"Through the whole process, I've been working out my problems with what happened," Carter said. "At first, when I started writing it, it took me back to a really dark time when I wasn't in a good place. … I've been able to talk more freely about what happened and been more accepting with it."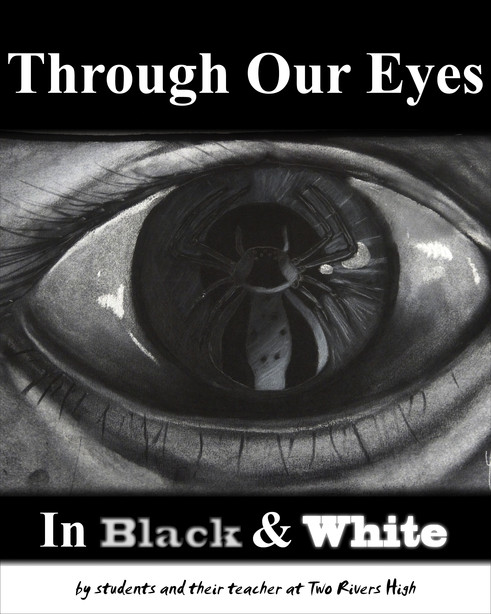 Senior Maddalyn Jensen said the project also helped her build deeper relationships with her peers.
"It was good for me to write my story," Jensen said. "It was good to get it all out. I think you get to know people on a more personal level that you wouldn't know just by seeing someone in a hallway. It was very impactful and helpful to me and other students who were involved it this. (It) was a really good environment."
Another student, 17-year-old Tessa Mamanakis, said writing about her trials in life helped her not only to cope, but also to move on from the experiences.
"(My story) is kind of about how I was treated during my life — not so nicely by men — and kind of getting through it," Mamanakis said. "(It helped me) to kind of get over it. It happened. Can't change it. Don't fret about it."
Cox said as a general rule, the teachers don't give homework to the Two Rivers High School students because many of them have jobs to support themselves and some are homeless. However, she said the students involved in the project worked very hard on it and would work on it before and after school, during their lunch breaks and on weekends.
"This has truly opened doors for some of my students," Cox said. "I think those who read our stories are going to find a lot of hope and inspiration. Sometimes students in alternative schools like ours, there is sometimes a negative stereotype attached to schools like mine. I think this is going to help break some of those stereotypes."
As a high school dropout and teenage mother herself, Cox said she relates to a lot of what her students are going through. Now Cox has a master's degree and teaches at the high school she eventually graduated from. She wrote her story and it will be included as the last segment in the book.
"One good book — a single story, actually — changed my entire life," she said. "Everything I do in my classroom today can be tied to my stumbling across that story. Today I spend my life helping students find their 'one story.' Writing our stories just might have the same positive impact on another's life some day that a single story had on my life."
A book launch will be held for "Through Our Eyes: In Black and White" on March 19 at the Ben Lomond Historic Suites. The book launch will be held from 6-8 p.m. and will include a reading and book signing. Books can be purchased for $10 at the launch or online and the funds will go towards doing a similar project next year.


Photos
Related Links
Related Stories
0 Pending Comments
Sorry, we are not accepting new comments on this story, but if you have more to contribute please email
newstip@ksl.com
Showing of 3 comments
Sorry, we are not accepting new comments on this story, but if you have more to contribute please email
newstip@ksl.com