SALT LAKE CITY — Utah ranks second in the nation for solar capacity installed in 2016 and 6th overall, jumping 10 spots from last year, according to the Solar Energy Industries Association.
Solar capacity in Utah increased over 500 percent in 2016 to a total of 1,489 megawatts installed; a huge jump from 248 megawatts in 2015. Utah is now second only to California for solar capacity installed in 2016, second to Nevada for total solar capacity installed per capita and sixth in the nation for total solar capacity installed.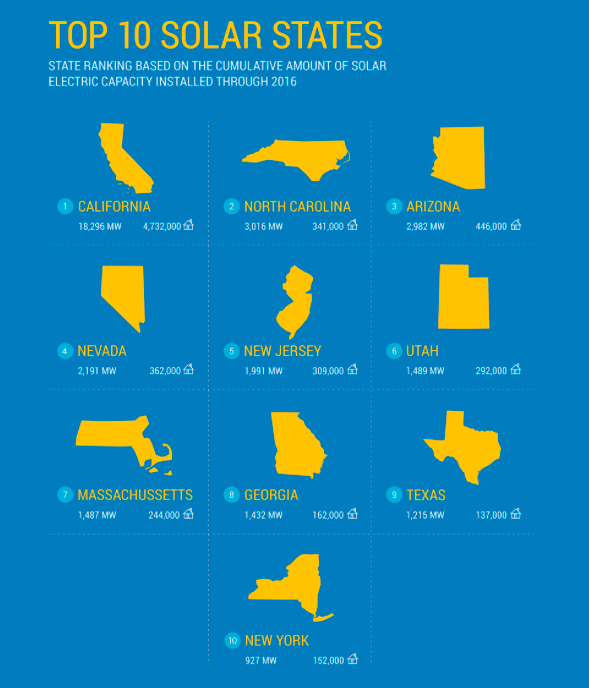 It's no secret to Utah residents that solar has seen some drastic growth recently, but it appears the state hit its stride in 2016. According to Ryan Evans, president of the Utah Solar Energy Association, there are two main reasons for this exponential growth.
The first, and most significant, is the numerous utility-scale solar projects that came online in 2016. Utility-scale solar projects are large-scale solar farms installed on wide areas of land, designed to generate enough electricity to power thousands of homes and businesses.
"Utah is a very ideal state for solar in general, but especially for utility-scale solar," Evans said. "We are the sixth sunniest state, and we have all of this great wide, open land that generally isn't used for much. So a lot of private landowners contract with solar farms."
Many of these utility-scale projects are found in southern or central Utah, thanks to the abundance of unused land in that part of the state.
The second reason for Utah's jump in 2016 was the increase in residential installation. The state jumped from approximately 5,000 residential installations in 2015 to about 13,000 in 2016, though Evans doesn't expect this growth to continue at the same rate.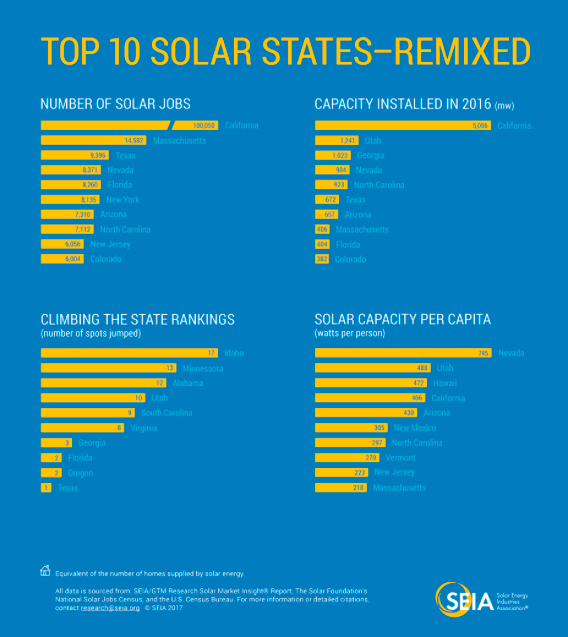 "Certainly, because of the growth we saw in 2016, we will not see the same production ... in 2017. There aren't as many utility-scale projects online," Evans said. "So when you're looking at the entire megawatts of solar installed, we won't see the same number. Then, as far as residential, we grew at such a pace in 2016 that that same pace would be hard to continue as it was."
Despite predicting a slower rate of growth during 2017, Evans does expect the industry to continue growing rapidly in Utah, and certainly the increase in residential installation belies an increased interest in solar.
According to David Bywater, CEO of Vivint Solar, Utahns are choosing solar more and more, not only because of the abundance of sun, but because they're searching for an energy source that's good for the environment and for their wallet.
"(Utahns) are always looking for what makes sense to them," Bywater said. "Let's use what God gave us — the sun — let's use something that helps the environment that would be better for our families, and let's find a way to become energy independent, or at least more efficient."
The industry's future does contain an element of uncertainty, however, since the Legislature's decision to reduce tax credits for solar over the next five years.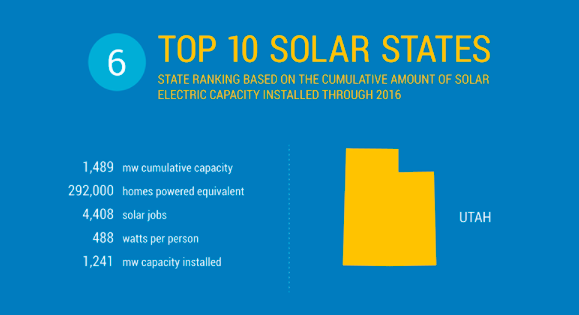 Net metering negotiations with Rocky Mountain Power may also impact the rate structure that has allowed solar customers in Utah to receive a retail credit for the amount of energy they sell back to Rocky Mountain Power.
Rocky Mountain Power says a study of what rooftop solar customers are paying shows that the current rate structure is not sustainable, with costs of $6.5 million being shifted each year to other customers. The company announced a three-prong rate change in November 2016 for any new solar customers after Dec. 9, 2016.
"We did propose raising the fixed monthly fee ... and there is a potential increase depending on how rooftop solar customers use the grid," said Paul Murphy, executive communications director for Rocky Mountain Power. "However, we are also proposing that the rate these customers pay for electricity be reduced... per kilowatt hour. ... Some customers will pay less. Others will pay more, but they will no longer be subsidized by customers who have not chosen to buy rooftop solar panels."
Many proponents of solar, however, fear the new fees could deter the adoption of rooftop solar.
Related Stories:
"Fortunately, we have a regulatory process and we have a state government that believes in assigning a solution that will work for everybody, so I think the negotiations are really good because we'll get to a longer-term pricing structure for solar energy that will give the market some stability," Evans said.
The price of going solar, however, also dissuades residents, some fearing the money they may save on utility bills in the future is not sufficient for the initial installation price.
"The return on investments is typically between nine and 13 years, depending on what power company you're using," Legend Solar co-founder Shane Perkins said. "Sometimes people feel they won't get their return on investments if they're going to move (homes) prior to that … (However), people can sell the house for equal what the solar would have cost them and then we see that homes are selling 20 percent faster if they have solar."
And though price may dissuade some Utahns, the industry itself has provided an immense increase in paying jobs within the state. In 2016, solar in Utah created about 1,700 jobs to employ a total of 4,408 people, according to the Solar Energy Industries Association.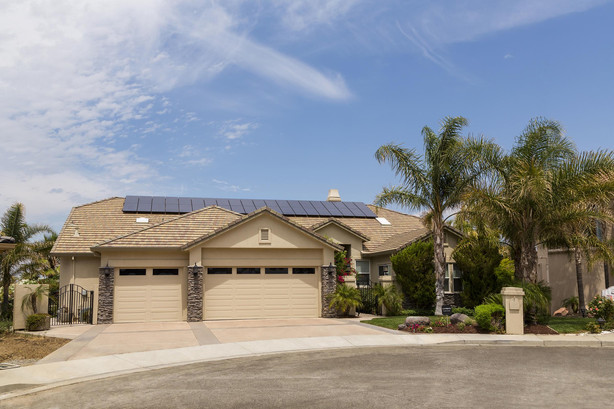 "Solar generates over $300 million worth of revenue to the state per year, so it's a big engine. It's one of the fastest growing industries in the country," Bywater said. "We grow 10 times faster than the normal industry, so when you try to quantify the economic benefit, it's quite substantial."
Evans also predicts positive environmental benefits as utility-scale solar projects decrease a need for certain fossil fuels that may not be as environmentally friendly.
"You put solar on top of a commercial building and that's an additional energy that does not need to be produced along the Wasatch Front where our air challenges are particularly (difficult) at times."
Going solar may also encourage users to be more environmentally friendly in other areas of their lives as well, Evans, Bywater and Perkins agreed.
And as 2017 continues, the growth of the solar industry may result in consequences and changes still unanticipated.


---
Liesl is a reporter at KSL.com, section editor of KSL Tech and a student at Brigham Young University. You can email her at lnielsen@ksl.com and follow her on Twitter at @liesl_nielsen.
Related Stories
0 Pending Comments
Sorry, we are not accepting new comments on this story, but if you have more to contribute please email
newstip@ksl.com
Showing of 25 comments
Sorry, we are not accepting new comments on this story, but if you have more to contribute please email
newstip@ksl.com