SALT LAKE CITY — Lots of rain combined with warm temps are creating the perfect breeding grounds for mosquitoes — and Utah's in for a bad season.
Mosquito abatement teams are urging Utahns to take one very important step to help lower the number of mosquitoes this season — and officials say it is going to be the highest we've seen in years.
All the much-needed rain created the perfect breeding grounds for mosquito populations in the area. These little bugs are resilient — a mosquito egg can last more than 10 years in dirt with lots of moisture.
Why you should be concerned about mosquito season
Mosquitos are more than just an annoyance during the early morning and late evening hours. There are more than 3,000 mosquito species in the world but only 176 known mosquito species around the country, according to mosquito.org. Each of these can be harmful to animals and people, says mosquitomagnet.com.
Mosquitos can carry diseases like the West Nile virus, malaria and encephalitis. A new virus cropped up for the first time in the U.S. in 2014, called chikungunya, which can cause painful symptoms like muscle pain, headache, nausea and fever, according to the Centers for Disease Control and Prevention. Over 1,000 Americans get a serious illness or die each year from a mosquito bite.
Mosquito season in Utah already under way
Some mosquito species hibernate during the winter and they start to come out as soon as it reaches 50 degrees Fahrenheit. With rain flooding the grounds around Utah, more dormant eggs will likely hatch soon, officials say.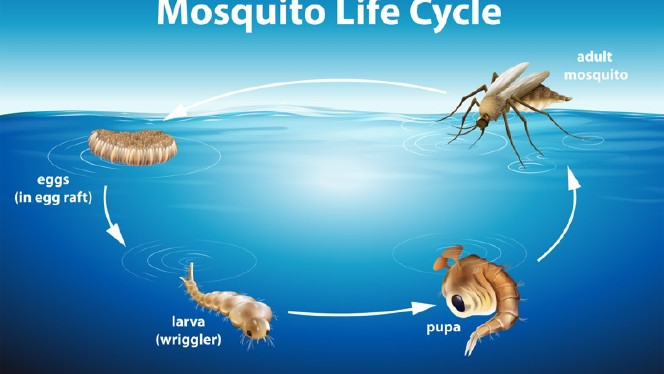 Photo credit: BlueRingMedia/Shutterstock.com
On top of that, mosquitoes are laying lots of new eggs in the water. Abatement teams in Utah are doing all they can to kill the mosquitoes in large breeding ground areas.
"We are starting to see the mosquitoes that actually carry the virus lay their eggs, and I'm thinking within a week to two weeks they will be out," said field manager Jason Hardman, Salt Lake City Abatement.
How to prevent bites
The facts
Almost 40,000 people in the U.S. have been reported with West Nile virus disease since 1999
Of those, over 17,000 have been seriously ill, more than 1600 have died
Know your risk
Anyone living in an area where West Nile virus is present in mosquitoes can get infected
West Nile virus has been detected in all lower 48 states
Outbreaks have occurred every summer since 1999
What you need to know about insect repellent
Apply insect repellent on exposed skin and clothing when you go outdoors
Cover up: Wear long sleeve shirts and long pants and socks while outdoors to prevent mosquito bites
Avoid mosquitoes: The mosquitoes that spread West Nile virus bite between dusk and dawn
Support your local community mosquito control programs: Your local mosquito control program can provide information about the type of products being used in your area. Check with Utah's health department for more information
Source: cdc.gov
The CDC says community members can help the abatement team by reporting dead birds to local authorities, as dead birds might be a sign of the virus. Utahns can call the state's Department of Health at 1-888-EPI-UTAH (374-8824) to report a possible disease.
Protect yourself: Drain, dress, defend
Officials are asking Utahns to take precautionary measures to keep mosquitoes from breeding near their homes.
Don't wait until you are bitten to prevent mosquitos. Start now by draining water-filled containers on your property. Mosquito.org recommends disposing of tires, clearing roof gutters of debris, cleaning pet water dishes regularly, emptying children's toys if they have water and changing bird bath water at least once a week.
Canoes and other boats should be turned over. Mosquito.org reports that even the smallest puddle of water can breed hundreds to thousands of mosquitoes.
If you're going to be outside, wear light-colored loose clothing. The species of mosquitoes around the U.S. are attracted to dark clothing, according to studies. If at all possible, wear long sleeves and pants.
The CDC recommends using a mosquito repellent that has been approved by the Environmental Protection Agency. There are currently four approved repellents that the EPA recommends:
The CDC says to apply repellant only to exposed areas of skin and to keep it away from eyes, mouth and apply sparingly to ears.
Most mosquitoes lay their eggs on top of water as the temperature rises and it can take as little as five days for the eggs to hatch. Officials expect there to be a big boom of mosquitoes this weekend.
For more information on prevention, visit mosquito.org and CDC.gov.
Photos

0 Pending Comments
Sorry, we are not accepting new comments on this story, but if you have more to contribute please email
newstip@ksl.com
Showing of 32 comments
Sorry, we are not accepting new comments on this story, but if you have more to contribute please email
newstip@ksl.com