LEHI — After tragedy, some turn to religion, others seek therapy. After her newborn daughter died, Andrea Olson found expression and peace through music.
Ben and Andrea Olson met in 2006 while she was working in Los Angeles as a recording artist and Ben was attending University California, LA. They married in 2007. A year and a half later, their son, Cash James, was born. After three miscarriages, in May 2012, Andrea delivered their second child, Clara Michele. Fourteen hours later, Clara succomed kidney failure — a complication of a rare genetic mutation.
Clara, the doctors said, suffered from a rare genetic mutation called auto recessive polycystic kidney disease. Though neither Ben and Andrea had the disease, they both carry the recessive gene mutation. Doctors estimate any child the couple has together will have a 25 percent chance of having the mutation.
While Andrea was still pregnant with Clara, doctors told the Olsons that Clara's kidneys were inflamed, and later realized she had ARPKD. They said if her lungs were fully developed upon delivery, she could receive a kidney and possibly survive. But when she was born, her lungs just weren't developed enough to breathe on her own.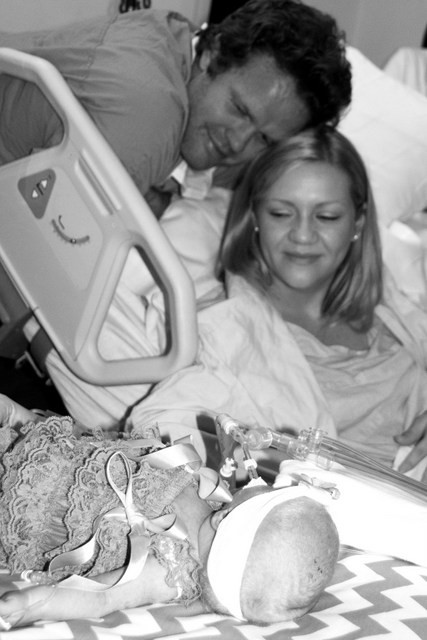 "It was just terrible. It was hard because she looked perfect," Andrea said. "She was big, I mean, she was 7 pounds. She looked perfectly healthy and normal and wonderful, it's just the inside wasn't compatible to life."
About two months after losing her daughter, Andrea — who had taken time off from her music career to be a mother — felt like she must have something more to give. For her, she said, she didn't quite feel worthless, but she felt like she couldn't do the things she wanted to, like grow her family.
"What do I have to give if I don't have that," she said. "And I just came to this place when I realized that there's so much more to me than just that, and I'll always have more to give even if I can't have another child."
Once she realized that, she came up with a song title, "More to Give," and wrote the lyrics. Her brother, Jason Anderson, had already come up with a guitar part by the time they met together to write the song. She said they put the parts together and worked the whole song out in about 20 minutes.
"I guess that was my way of letting out all the things I was feeling," Andrea said. "It's hard sometimes to just tell people how you're feeling and talk about it. That was the one personal way, rather than just writing it in a journal, to get it off my chest. No one had to wonder how I was feeling anymore."
Since that song, she and Jason have written about 10 others talking about losing Clara. She said writing and recording them has been therapeutic as she grieves her daughter.
---
That was the one personal way, rather than just writing it in a journal, to get it off my chest. No one had to wonder how I was feeling anymore.
–Andrea Olson
---
"I don't know if I ever wrote a song that I felt so emotionally connected to, " Andrea said. "It had been a really long time since it had meant something to me. I had done it for work for so long, I think and it was a lot of times other people's music, it had become boring to me."
"Once I realized it was something I could use, and it helped me heal, and learn, and grow, it was such a wonderful experience to know that I am going to do this forever, and this is always going to be a part of my life. This song I have, even I don't have her, I'll have this and it's a memory and a little piece of her, and from that time."
Now, she said, enough time has passed that she's able to see how much she benefitted from her musical expression.
"Now that I'm a little bit on the other side of it, I feel like I can look at the positives and I can see what a blessing that I have, that I had that to fall back on. Something to catch me and carry me through, and make me feel like I had something more to give than that because that wasn't working out."
Cash, though he might not understand exactly what they mean, knows "More to Give" by heart, and requests it on repeat, Andrea said.
"He knows every word because he sat in the room with me and my brother as we wrote it," she said. "He always goes, 'turn it on again, Mom.' ... I don't think he understands everything that I'm saying, but he knows it's about her."
Cash does not have the disease. He could be a carrier of the recessive gene mutation, but the Olsons have not had him screened yet.
The Olsons still want another baby, but without the help of an expensive procedure, they risk having another child with ARPKD. They've started a fundraiser* and hope to have another baby.
Whatever the outcome, however, Andrea said she wants to reach out to other mothers like her, who lose their child as the result of a rare genetic disorder they didn't know existed before it threatened the life of their baby.
"I wanted to put myself out there as someone who people could reach out to," Andrea said. "I would love to be able to help somebody going through something similar ... because I know what it was like for me not having anybody. It was just so scary."
---
*ksl.com has not verified the accuracy of the information provided with respect to the account nor does ksl.com assure that the monies deposited to the account will be applied for the benefit of the persons named as beneficiaries. If you are considering a deposit to the account you should consult your own advisors and otherwise proceed at your own risk.
Photos
Related Links
Related Stories
0 Pending Comments
Sorry, we are not accepting new comments on this story, but if you have more to contribute please email
newstip@ksl.com
Showing of 11 comments
Sorry, we are not accepting new comments on this story, but if you have more to contribute please email
newstip@ksl.com