SAN FRANCISCO -- Many of us have filled up our cups at the local gas station. But those self-serve soda fountains may be serving up a lot of bacteria.
Researchers from Hollins University in Virginia tested more than 100 beverages from self-serve and staff-serve dispensers. What they found coming out of these machines is pretty unappetizing.
"We obtained soda fountain beverages from a wide variety of fast food establishments and found that a significant number of the drinks had levels of bacteria, including coliforms, which would not be allowed in municipal drinking water," said Dr. Renee Godard, professor of biology and director of environmental studies at Hollins, and a co-author of the study. "To our knowledge, no one has looked at bacterial contamination from soda fountain machines before, and our results may have public health implications. They signal the need for regulations that enforce the manufacturer's recommended cleaning regimens for these beverage dispensers."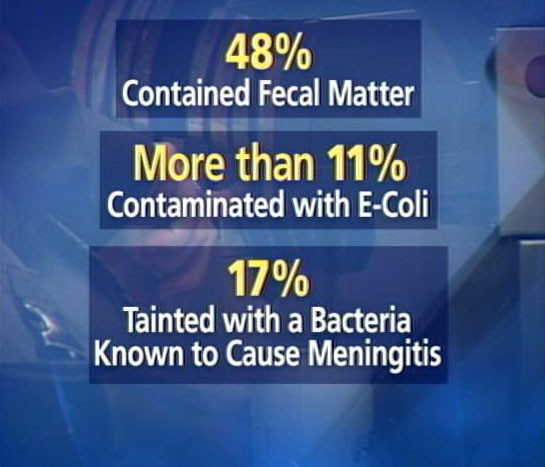 They found 48 percent of the beverages contained fecal matter.
More than 11 percent were contaminated with E. coli and 17 percent were tainted with a bacteria known to cause meningitis.
Most of the bacteria showed resistance to one or more of the 11 antibiotics tested.
In these drinks, they also found smaller amounts of other kinds of germs including staphylococcus, klebsiella and candida.